A 24-hour Haematology service is provided. The service consists of a wide range of haematological and blood transfusion techniques encompassing routine Haematology, Coagulation and Blood Transfusion.  It is closely linked to the Trust clinical haematology service which provides  facilities for the diagnosis and treatment of patients with haematological disorders. 
The clinical service is staffed with 5 Consultant Haematologists for interpretation and advice.  The technical service is provided by Biomedical Scientists (BMS) and Medical Laboratory Assistants (MLA).  The annual workload is in excess of 700,000 request items per year with 8-10% growth each year.  The Department has been approved for Biomedical Scientist and Clinical Scientist Training by the HCPC.  The BMS staff are State Registered with HCPC and the Trainee BMS staff are trained in accordance with the IBMS and HCPC regulations.  There is active encouragement for staff to follow further education courses e.g. MSc (Haematology) and management qualifications.
The Department is well equipped with modern instrumentation and has a replacement program to maintain and improve the level of service provided.
The Department is UKAS accredited and assessed for compliance by MHRA against the Blood Safety and Quality Regulations 2005 and also participates in all appropriate National External Quality Assurance Schemes in which it performs satisfactorily.
Clinical Head of Service
Dr Alastair Whiteway
Blood Sciences Manager
Mr Paul Virgo
Blood Sciences Operations Manager
Mrs Allison Brixey
Haematology & Transfusion Laboratory Hours
Monday-Sunday including bank holidays: 8am - 10pm
Specimens received outside these normal opening times are classified as "out of hours". Out of hours blood product requests must be discussed with the Biomedical Scientist on call. The Biomedical Scientists should always be informed of urgent analytical requests.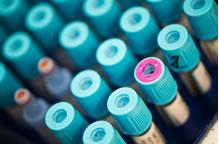 Includes details of sample types, volumes, special precautions, turnaround times & reference ranges.