Has the sample I sent recently arrived in the lab yet? How can I check?
The Northgate Failsafe system is updated in the morning of each working day. If the sample has arrived and been booked in it will show on the failsafe as pending. Please bear in mind that sometimes the post is slow, especially around bank holidays. If you don't have access to the failsafe system, then contact your local screening coordinator in the first instance. We receive a high volume of calls which directly impacts on the speed we can open post and book in and process samples.
We are happy to receive phone calls if you, a colleague or the screening coordinator have checked the failsafe already and the sample isn't showing and the sample was posted at least 5 days ago.
Why has the sample I collected been rejected?
When samples that are unsuitable for testing arrive, we record the reason for rejection. This information is given to the midwifery team / screening coordinator when we contact them to organise for the repeat to be collected.
The reason will also be shown on the Northgate failsafe system.
Further details including common reasons for sample rejection, tips and learning resources can be found on our 'Repeat samples and Limitations of testing' page.
Once you are aware of the reason for rejection and would find it helpful to see a picture of the sample you collected for educational purposes, please email us.
When will the results be available
The aim is for all babies suspected of having any of the screened conditions, to be seen by the appropriate clinical team and treatment started in a timely manner. The child health record departments (CHRDs) keep track of which babies have been screened. Ideally, the lab should provide the CHRD with results by 17 days of age (for all babies with normal results for all 9 conditions).
Parents with a not suspected result for each of the conditions should have a not suspected results letter sent directly to them by the CHRD within 6 weeks of birth.  They will be contacted sooner if there is thought to be any problem with their baby.
General timescales:
The first blood spot sample should be taken at 5 days of age, and national standards state it should arrive in the lab within 3 working days. Samples are booked into the laboratory computer system on the day of receipt and appear as pending on the Northgate failsafe system on the morning of the next working day. Samples are tested for all 9 conditions either the day of receipt or the following day.
Babies with positive results, suspected of having PKU, MCADD, MSUD, IVA, GA1 or CHT (on the first sample), are referred to the appropriate clinical team within 3 working days of the sample arriving in the laboratory. Testing for CF or SCD can sometimes take a little longer and for a small number of babies the screening pathway for CF and CHT requires a second sample ('unavoidable repeat') to be taken before a not suspected, suspected or carrier result can be reported.
Occasionally results may be delayed. Most commonly these are due to post / transport delays, especially around bank holidays, or samples arriving which are unsuitable for testing causing the need for an 'avoidable repeat'.
Very occasionally we have technical problems such as analyser breakdowns or IT issues which may cause a delay, however, we have a number of contingencies in place to ensure the correct results are reported in a timely manner.
When does the failsafe get updated?
Data is extracted from our lab computer system automatically every night at about 11pm for upload on the morning of the next working day. Unfortunately it is not possible to change the time of this extract on demand.
Who do I contact for advice?
Our Key contacts are listed here.
Can I arrange a visit to the laboratory?
We offer half-day training sessions to midwives, health visitors, dieticians, nurses, doctors and other healthcare professionals involved in the collection of bloodspots.  Please email nbn-tr.newbornscreening@nhs.net in the first instance.
Will the test show if a baby is a Cystic Fibrosis (CF) carrier?
Approximately 1 in every 25 people in the general population is a CF carrier. Our testing strategy will not detect all babies who carry the CF gene, but as part of the testing for cystic fibrosis a few carriers are identified (approx. 12-15 babies /year in the South-West region).
When this happens, information is given to the family, usually by the health visitor, as the family may wish to seek genetic counselling, especially if they are planning future pregnancies.
Will the test show if a baby is a sickle cell carrier?
Yes, the test will show if a baby is a sickle cell carrier, or a carrier of another clinically significant abnormal haemoglobin variant.
For further advice regarding the sickle cell screening programme please contact the Lead Biomedical Scientist in Haematology.
Will the test show if a baby has thalassaemia?
Some cases of thalassaemia will be detected and some not. Carriers are unlikely to be identified at this age. 
For further advice regarding the sickle cell screening programme please contact the Lead Biomedical Scientist in Haematology.
When did the Bristol Newborn Screening Laboratory start testing babies in the South West for each of the nine conditions?
| | |
| --- | --- |
| Condition | Date |
| PKU | late 1960's |
| CHT | early 1980's |
| Sickle / Haemoglobinopathies | 2005 |
| CF | 2007 |
| MCADD | 2008 |
| Expanded screening for IMDs (GA1, IVA, HCU, MSUD) | January 2015 |
Health professionals:  If you would like to confirm that a child has been screened for a particular condition, please contact us. Please remember that not all children currently living in the South West will have been screened for all the conditions offered at the time of birth, as some may have been born in another area/country, or the parents may not have consented to a sample being collected/tested.
Contact Newborn Screening
Newborn Screening
Clinical Biochemistry
Pathology Sciences Laboratory
Southmead Hospital
Westbury-on-Trym
Bristol
BS10 5NB
Email: nbn-tr.newbornscreening@nhs.net
Telephone: 0117 414 8412
Fax: 0117 414 8413
Opening times: 9am - 5pm Monday - Friday excluding bank holidays.
Clinical advice & interpretation is available during working hours.
Access the NHS Blood Spot Screening Programme Centre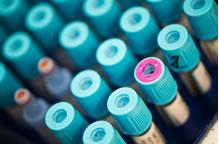 Includes details of sample types, volumes, special precautions, turnaround times & reference ranges.