Antenatal and Newborn Screening for Sickle and Thalassaemia (SCT)
Background:
Haemoglobinopathies are a group of inherited blood disorders that fall into two main categories: haemoglobin variants such as sickle cell disease (SCD) and thalassaemias. If a patient is a carrier of the sickle cell or thalassaemia gene, it can be passed onto the baby. All pregnant women in England who have accepted screening will have laboratory testing for haemoglobin variants and thalassaemia. If the mother is found to be a carrier, screening may also be offered to the father. 
Haematology Department:
The department of Haematology provides a Sickle Cell and Thalassaemia (SCT) Screening service for antenatal patients in North Bristol and offers a confirmatory service for the newborn screening provided by Clinical Biochemistry. For further information on newborn blood spot testing please visit https://www.nbt.nhs.uk/severn-pathology/pathology-services/clinical-biochemistry/newborn-screening.
The SCT screening provided by the laboratory follows the government's published handbook for antenatal laboratories and handbook for newborn laboratories which set out interpretation and reporting guidelines, including which types of carrier states to report.
SCT testing on antenatal patients is undertaken on whole blood samples taken at booking, preferably before 10 weeks gestation. This allows for prenatal diagnosis (PND) to be offered to at risk women and couples by 12 weeks + 6 days of pregnancy. Early detection of SCT through screening allows for personal informed choice, timely counselling, clinical monitoring and preparation for those patients identified as having an "at risk" pregnancy.
As well as the general sample labelling requirements, it's also necessary for the patients' family origin questionnaire (FOQ) to be completed either on the reverse of the antenatal form or by following prompts when requesting on ICE. Our UKAS accredited laboratory currently screens approximately 7000 pregnant women each year and confirms results for approximately 500 babies for the newborn screening laboratory.
The SCT screening programme is provided in close collaboration with health care professionals throughout the region.
Analysis:
Initial screening is performed on our primary analyser using high performance liquid chromatography (HPLC). 
Abnormal samples are then reanalysed using isoelectric focussing (IEF). IEF separates the proteins into bands allowing our skilled biomedical scientists to identify the types of haemoglobins.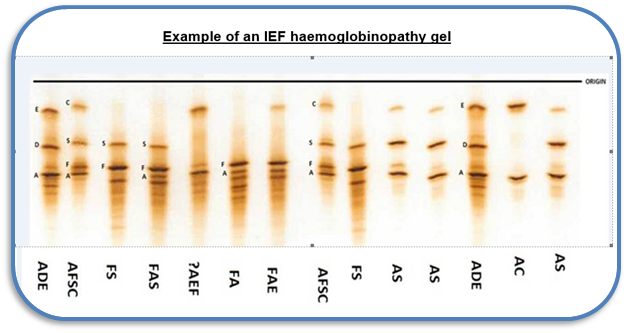 Quality Assurance:
Turnaround times (TATs), standards and key performance indicators (KPIs)
The laboratory is accredited by UKAS under ISO15189 registration number 8066 and participates in UK NEQAS Quality Assurance Scheme.
Screening laboratories must be able to release > 90% of antenatal results, interim reports and requests for repeat tests in < 3 working days in accordance with SCT screening standards.
Developments:
We report our rare, affected babies (those with severe disease) on a named patient basis, and this is to the newborn outcomes solution (which reports to NCARDRS)

More recently, paper copies of the forms have become unavailable: all patient leaflets are held centrally and are available on the government website: 
https://www.gov.uk/government/collections/screening-in-pregnancy-information-leaflets#sickle-cell-and-thalassaemia.
Laboratory Visits:
We offer half-day training sessions to midwives, health visitors, nurses, doctors and other allied healthcare professionals involved in the collection of samples. Please contact us to arrange a visit.
Key Contacts for Haematology Laboratory
Dr Sophie Otton
Clinical Lead for SCT & Consultant Haematologist 
Via Haematology secretaries - Telephone: 0117 4148401
Reginah Visser
Principal Clinical Scientist 
Jemma Cable
Clinical Scientist Trainee
Grace Van Der Mee
Lead Biomedical Scientist
Helen Izzard
Senior Biomedical Scientist 

Pathology Sciences Laboratory
Southmead Hospital
Westbury-on-Trym
Bristol
BS10 5NB
Email: NBTHaemoglobinopathyService@nbt.nhs.uk
Telephone: 0117 414 8356
Opening times: 9am - 5pm Monday - Friday excluding bank holidays.
Clinical advice & interpretation is available during working hours.
Q-Pulse Ref HA/WE/008 V1
Page created 14/03/2022