Point of Care
Point of Care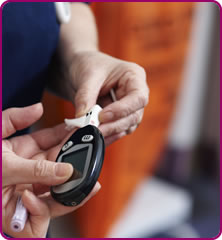 Point of care testing (POCT), also known as extra-laboratory testing or Near Patient Testing (NPT), refers to any analytical test performed for or by a patient outside the conventional laboratory setting.
The Point of Care Testing Team provides support for many POCT applications to North Bristol NHS Trust.
The service encompasses:
Advice on the selection and procurement of POCT equipment.
Maintenance and servicing of blood gas analysers across the Trust.
Replacement and servicing of blood glucose meters.
Supply of consumables for blood glucose meters including quality control solutions, batteries and user manuals.
Supply of Pregnancy testing kits.
Training in blood gas analysis, blood glucose analysis, capillary blood collection, urinalysis, haemoglobin testing and pregnancy testing.
Training materials for urinalysis and pregnancy testing.
External Quality Assurance schemes for blood glucose and some other POCT tests.
Support for Haematology analysers situated in Out Patients departments and Operating Theatres.