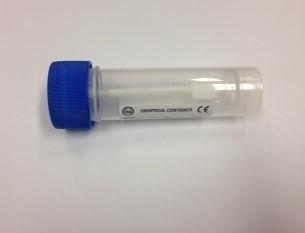 Sample type: Faeces
Test name: Calprotectin a.k.a. Inflammatory bowel disease (IBD)
Special precautions & notes: Other causes of a raised result include: cancer, medications (NSAIDs, PPI), Giardia, infections, Coeliac, diverticulitis, cirrhosis
Reference range: High Risk if FC >250 mcg/g
If the test result is above 250mcg/g, the patient falls into the high risk group as there is a 46% chance they have IBD. An urgent referral to gastroenterology should be considered via eRS (or direct access colonoscopy if that is patient choice and considered clinically appropriate).
If acute severe colitis is suspected then patient should be discussed with on call gastroenterology team as admission may be appropriate.

Low Risk if FC <100 mcg/g
If the result is less than 100 mcg/g then risk of IBD is very small (<2%) then alternative diagnoses such as Irritable Bowel Syndrome should be considered. Invasive investigations such as colonoscopy are not normally recommended at this stage unless there is still strong clinical suspicion of bowel pathology.

Intermediate Risk if FC between 100 and 250 mcg/g
If the FC result is between 100 and 250 and there are no symptoms of acute severe colitis then ensure NSAIDs and PPIs have been withheld for at least 4-6 weeks and then repeat test.
•If the repeat result then falls below 100mcg/g then the risk of IBD is very low and no further investigations would normally be indicated
•If the repeat result remains between 100 and 250 the risk of IBD is approximately 12% and referral for direct access colonoscopy should be considered to confirm the diagnosis.
•If the repeat result is >250mcg/g then treat as high risk as above.
Container: Blue top universal with spoon
Ideal volume (mL): 5 g
Referred outside NBT for analysis? No
Discipline: Immunology
Section: Proteins
Turnaround time: 7 working days
remedy.bnssgccg.nhs.uk/adults/gastroenterology-and-colorectal-surgery/faecal-calprotectin/
Further information: Other causes of a raised result include: cancer, medications (NSAIDs, PPI), Giardia, infections, Coeliac, diverticulitis, cirrhosis