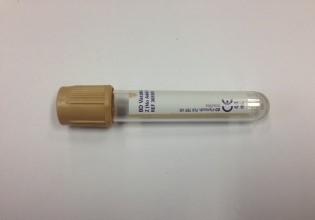 Sample type: Urine - Random
Test name: Creatine Studies a.k.a. Guanidinoacetate, GAA
Condition / Indication: For investigation of suspected metabolic disorders of creatine synthesis or transport.
Special precautions & notes: Unstable, please send to the laboratory as soon as possible after collection. Store frozen. Couriered to referral lab on dry ice.
Reference range: Reference range quoted on report provided by referral laboratory.
Container: Urine plain 5ml (Beige top)
Alternative container: Universal (white top)
Ideal volume (mL): 5 mL
Referred outside NBT for analysis? Yes
Discipline: Clinical Biochemistry
Section: Biochemical Genetics
Turnaround time: 14 days
Referral location: Biochemical Genetics Unit, Box 247, Addenbrooke's Hospital, Hills Road, Cambridge, CB2 0QQ