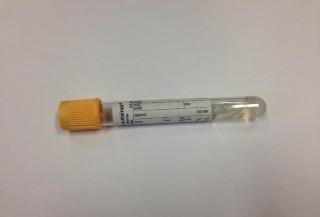 Sample type: Serum
Test name: ELF a.k.a. Enhanced liver fibrosis test
Condition / Indication: Liver fibrosis marker for investigation of NAFLD.
Special precautions & notes: Only available to primary care. Only assayed if abnormal FIB-4 result.
Reference range: >9.5: Liver referral, ensure NILS and liver ultrasound performed.
<9.5: Lifestyle modification including regular screening for NAFLD risk factors. Repeat FIB-4 in 3 years.
Container: Serum (Gold top)
Alternative container: Li heparin (green top)
Ideal volume (mL): 5 mL
Referred outside NBT for analysis? Yes
Discipline: Clinical Biochemistry
Turnaround time: 10 days
remedy.bnssgccg.nhs.uk/media/3839/nafld-pathway-nov-2019-age-change-45-40.pptx
Referral location: Specialist Biochemistry, Department of Laboratory Medicine, Mail Point 6 Level D, South Block General Hospital, Tremona Road Southampton SO16 6YD
Information for Laboratories referring samples for analysis at NBT:
Ensure FIB-4 is calculated before requesting ELF.