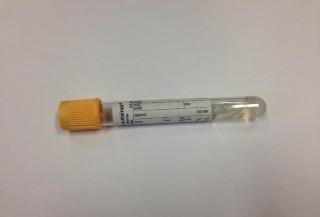 Sample type: Plasma AND Serum
Test name: FIB-4 a.k.a. Fibrosis-4 index
Condition / Indication: Screening index for NAFLD based on age, AST, ALT and platelet count.
Special precautions & notes: Please request a FBC (EDTA plasma) and also send a serum tube for AST and ALT. Result will be calculated if FIB-4 is requested, if not it can be calculated off line. FIB-4 Calculator available at: https://www.hepatitisc.uw.edu/page/clinical-calculators/fib-4
Reference range: <1.3: Lifestyle modification including regular screening for NAFLD risk factors. Repeat FIB-4 in 3 years.
1.3-3.25: Indeterminate FIB-4 result. An ELF test will be added to the sample if enough sample remains. Ensure a NILS screen has been completed.
>3.25: Liver referral, ensure NILS and liver ultrasound performed.
Container: EDTA (Lavender top) AND Serum (Gold top)
Ideal volume (mL): 5 mL
Referred outside NBT for analysis? No
Discipline: Clinical Biochemistry
Turnaround time: 24 hours
remedy.bnssgccg.nhs.uk/media/3839/nafld-pathway-nov-2019-age-change-45-40.pptx