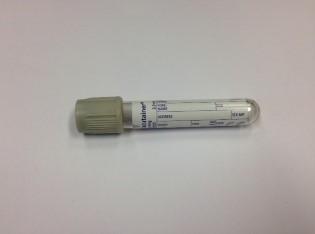 Sample type: Plasma
Test name: Free Fatty Acids a.k.a. FFA, NEFA, non esterified fatty acids
Condition / Indication: Hypoglycaemia / Ketosis
Special precautions & notes: Send to laboratory immediately. Usually requested with 3-hydroxybutyrate and glucose.
Reference range: Fasting levels 0.10 - 0.90 mmol/L
Container: Fluoride (grey top)
Ideal volume (mL): 2 mL
Referred outside NBT for analysis? No
Discipline: Clinical Biochemistry
Section: Biochemical Genetics
Turnaround time: 7 days
Information for Laboratories referring samples for analysis at NBT:
Please provide glucose result. Store frozen if not posting immediately. Send sample by first class post.