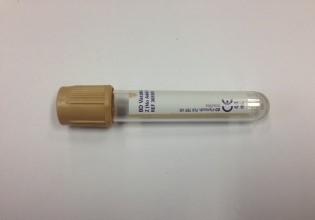 Sample type: Urine - Random
Test name: Galactitol a.k.a. galactokinase deficiency screen, congenital cataracts screen
Condition / Indication: Cataracts / Galactosaemia
Special precautions & notes: Quantitative assay. Levels are raised in Classical Galactosaemia and Galactokinase deficiency. Can be used to exclude these, even if patient has had a blood transfusion. Also used for monitoring treatment. Please phone laboratory if urgent analysis is required.
Reference range: Adults: 2 - 4 umol/mmol creatinine. See document below for Reference Ranges in Children (ages 0-18 years).
Container: Urine plain 5ml (Beige top)
Alternative container: Universal (white top)
Ideal volume (mL): 5 mL
Referred outside NBT for analysis? No
Discipline: Clinical Biochemistry
Section: Biochemical Genetics
Turnaround time: 28 days
Information for Laboratories referring samples for analysis at NBT:
Send by first class post.
Method:
GC-MS