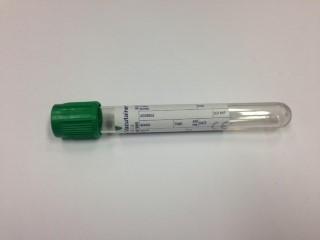 Sample type: Whole Blood
Test name: Galactokinase a.k.a. cataract screen
Condition / Indication: Galactokinase deficiency
Special precautions & notes: Discuss request with laboratory as analysis needs to be performed within 5 days of sample collection. Test not suitable if the patient has received any red cell transfusions within last 4 months.
Reference range: Please note, as of 4/1/2021, HPLC-MS/MS method in use; new reference ranges apply; 0 – 6 months: 3.7 – 9.0 μmol/h/g Hb, Over 6 months: 1.5 – 4.0 μmol/h/g Hb.
Container: Li heparin (green top)
Ideal volume (mL): 1 mL
Referred outside NBT for analysis? No
Discipline: Clinical Biochemistry
Section: Biochemical Genetics
Turnaround time: 14 days
Information for Laboratories referring samples for analysis at NBT:
Please telephone us to arrange (must assay within 5 days of sample collection). Send as whole blood, Store & transport at 4ºC (e.g. send overnight with an ice-pack). Samples which have been at room temperature for >24 hours are unsuitable and will not be analysed. Do not centrifuge, wash cells, make bloodspots or freeze samples. If a sample is collected on a Friday, please inform us, store at 4ºC, and send (with an ice-pack) to arrive in Southmead on Monday or Tuesday (am).