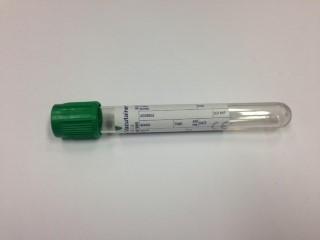 Sample type: Whole Blood
Test name: Galactose-1-phosphate a.k.a. gal-1-P, gal 1 po4
Condition / Indication: Classical Galactosaemia Monitoring
Special precautions & notes: Please do not collect samples on a Friday. EDTA samples are not suitable.
Reference range: The acceptable level for Galactosaemic on Galactose free diet is less than 0.60 umol/g Hb.
Container: Li heparin (green top)
Ideal volume (mL): 0.5 mL
Referred outside NBT for analysis? No
Discipline: Clinical Biochemistry
Section: Biochemical Genetics
Turnaround time: 28 days
Information for Laboratories referring samples for analysis at NBT:
We prefer to receive the sample within 24 hours of collection (56 hours maximum). Therefore, please don't collect samples on a Friday. Send immediately as whole blood, do not centrifuge.