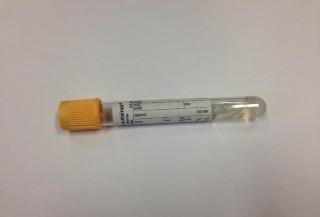 Sample type: Serum
Test name: hCG
Condition / Indication: Tumour Marker, and assessment of ectopic pregnancy. Not offered for routine pregnancy testing where urine is preferred and tested using a point of care device.
Special precautions & notes: Patients under the care of the Trophoblastic Tumour Screening and Treatment Centre at Charing Cross Hospital should have their samples sent direct to the hospital.
Reference range: <5 IU/L. hCG levels are higher in pregnancy and double approximately every 48 hours in viable early pregnancy. See local guidelines for hCG values in the management of ectopic pregnancy. Levels up to 7 IU/L can be seen in post-menopausal females.
Container: Serum (Gold top)
Ideal volume (mL): 5 mL
Referred outside NBT for analysis? No
Discipline: Clinical Biochemistry
Section: Automated Laboratory
Turnaround time: 1 day (4 hours for urgent requests)