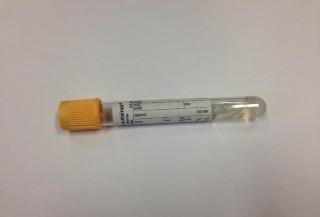 Sample type: Clotted blood
Test name: HIT a.k.a. Heparin Induced Thrombocytopenia PF4 antibodies
Condition / Indication: Requested when there is a high clinical suspicion of HIT. This is usually indicated by the 4T score. HIT typically develops 4 to 14 days following treatment with unfractionated heparin (UFH), however, low molecular weight heparin (LMWH), or, more rarely, fondaparinux have been shown to also cause HIT. In HIT heparin-dependent IgG antibodies bind to platelet factor 4 and activates platelets resulting in thrombocytopenia and/or thrombosis.
Special precautions & notes: Requesting for HIT is now available on ICE. If urgent please phone ahead of your request. An example 4T score calculator can be found below.
Container: Clotted
Referred outside NBT for analysis? Yes
Discipline: Haematology
Turnaround time: 1 day for urgent requests otherwise 5 days.
practical-haemostasis.com/Clinical%20Prediction%20Scores/Formulae%20code%20and%20formulae/Formulae/HIT/4T_HIT_score_2.html
Referral location: NHS Blood and Transplant, Filton, North Bristol Park, Northway, Filton, Bristol BS34 7QH