Isoniazid (+ N-Acetyl-Isoniazid)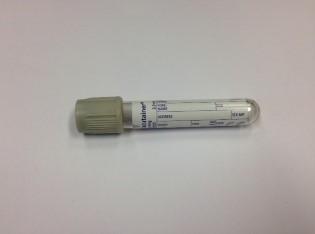 Sample type: Whole Blood Collected in Fluoride Oxalate (Fx) Tube
Test name: Isoniazid (+ N-Acetyl-Isoniazid)
Condition / Indication: Requesters have found these assays to be of value in patients with difficult infections or in patients that are failing to respond to treatment.
Advance warning: Not usually required, advanced warning only needed for Weekends and Public Holidays.
Special precautions & notes: Blood should be collected in Fluoride Oxalate (Fx) tube and sent as whole blood - unspun and unseparated
Sample required: Approx. 1-2 mL of blood taken in Fluoride Oxalate (Fx) tube. Sample must be sent as whole blood (unspun and unseparated) to lab within 5 days of being taken.
Timing of samples: We recommend a post dose sample, taken 2 hours after the end of administration (and/or 6 hours if monitoring absorption). 
Test information required: • Patient name, sex and age
• Laboratory number
• Dosage, frequency and timing of samples
• Clinical Summary
• Address for report
• Phone (fax if preferred) number for report or email address for an electronic copy
• Contact name
• Appropriate hazard warnings

Results: Results will be telephoned/faxed or emailed on the day of receipt for samples received between 9am and 3pm Monday to Friday. A written confirmation report will be sent by post.
Reference range: Isoniazid Post dose: 3.0 – 5.0 mg/L ; N-Acetyl Isoniazid Post dose: N/A (indicator of rate of isoniazid metabolism to the inactive form).

Container: Fluoride Oxalate (Fx) tube
Alternative container: None.
Ideal volume (mL): 1-2 ml
Referred outside NBT for analysis? No
Discipline: Antimicrobial Reference Laboratory
Turnaround time: <3 days (from day of receipt)
Re-assay interval:
3-5 days post dose adjustment