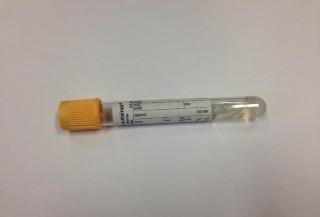 Sample type: Serum
Test name: Transferrin Glycoforms a.k.a. transferrin isoforms
Condition / Indication: For the investigation of congenital disorders of glycosylation. Not a suitable test for alcohol abuse.
Special precautions & notes: Please discuss request with laboratory. Not for patients under 3 weeks old, due to the presence of maternal transferrin. Please allow at least 4-6 weeks after a transfusion.
Reference range: Reference range quoted on report provided by referral laboratory.
Container: Serum (Gold top)
Ideal volume (mL): 5 mL
Referred outside NBT for analysis? Yes
Discipline: Clinical Biochemistry
Section: Biochemical Genetics
Turnaround time: 14 days
Referral location: Neuroimmunology & CSF Laboratory, Room 917, Institute of Neurology, Queen Square, London, WC1N 3BG