Trimethoprim in Co-trimoxazole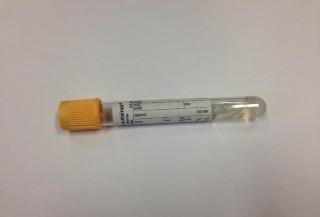 Sample type: Serum
Test name: Trimethoprim in Co-trimoxazole
Condition / Indication: Requesters have found these assays to be of value in patients with renal failure and/or high-dose co-trimoxazole therapy. Also in monitoring absorption in neutropenic patients.
Advance warning: Not normally required during our core working hours (Mon – Fri 09:00 – 17:15). Please contact laboratory to discuss the possibility of this assay being performed on Saturdays, Sundays and Bank Holidays.
Sample required: Approx. 1-2mL of separated serum (the minimum acceptable is 100µL). Samples may be sent by post. Transport time must be <5 days. Samples should be kept at 4°c if there is a delay in sending. Please contact laboratory if in doubt as sample integrity may be affected. Samples must be sealed and packed to conform to current regulations. Leaking samples may not be processed.
Timing of samples: We recommend a pre dose sample and a post dose sample, taken either 1 hour after the end of iv administration or 2 hours after oral administration.
Test information required: • Patient name, sex and age
• Laboratory number
• Dosage, frequency and timing of samples; Please make it clear if the patient is receiving trimethoprim alone
• Clinical Summary
• Other medications (essential)
• Address for report
• Phone (fax if preferred) number for report or email address for an electronic copy
• Contact name
• Appropriate hazard warnings

Results: Results will be telephoned/faxed or emailed on the day of receipt for samples received between 9am and 3pm Monday to Friday. A written confirmation report will be sent by post.
Reference range: Pre dose 5-7 mg/L
Post dose 5-10 but <20 mg/L
Container: Serum (Gold top)
Referred outside NBT for analysis? No
Discipline: Antimicrobial Reference Laboratory
Turnaround time: <3 days
Re-assay interval: 6-8 Days – Assuming initial results are within expected range.