If your child is referred to us for a blood test we will send you an appointment in the post.
We use a special cold spray (cryogesic fine spray) which is proven to numb the area and help in pain relief and we use special children's equipment and small children's needles.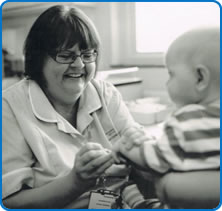 The nurses are very experienced and expert at persuading the children to trust us and allow us to take blood. We usually use the back of the hand or the inner elbow on older children.
We respect that some children will be scared and we take their fears seriously. We always explain what's going to happen and how we will make sure their experience is a good one.
We take lots of bloods for the community doctors, lots of our children have disabilities and some have behaviour problems. We are very experienced with these children and will work with the parents to ensure their experience with us is a positive one. Lots of mums come to us and say "I have no idea how you're going to do this"... and we do! Often with a hug or smile from the child on the way out!
We have cool plasters and stickers!
We take blood from lots of babies' even very tiny ones and rest assured we are always very gentle with them.
Contact Westgate House Children's Centre
Westgate House Children's Centre
Westgate House
Southmead Hospital
Bristol
BS10 5LT
Telephone: 0117 4145807
 
Opening times
Westgate House clinics
Monday to Thursday 8am – 6pm 
Sister
Katy Travis
Staff Nurse
Debra Sainsbury
Health Care Assistant
Katie Allen
Receptionist
Mia Fearnley