At your child's Outpatient appointment, at Westgate House Children's Centre you will be greeted by our receptionist who is very experienced with children. She will book you in on the computer and show you to the waiting areas including our brightly decorated playroom. 
Within the playroom, there are lots of toys to play with, some donated or bought for us by Southmead Hospital Charity. All toys are regularly washed.  We have a television to keep various ages of children entertained.
The toilet facilities are child friendly with a baby changing unit.
We encourage breastfeeding and have a dedicated feeding room for all needs
All the consulting rooms are bright and friendly with toys to play with.
We have a fridge with bottled water (donations welcome) and tap water available.
If your child is under five years old please make sure you bring their red book with you to your appointment(s) as it contains important information about your child.
If your child is unwell or you/your child have been in contact with or had any symptoms of diarrhoea or vomiting in the 72 hours prior to your appointment please do not attend your appointment/clinic. Instead, please telephone us and cancel the appointment, we will arrange another appointment as soon as possible.
If your child needs to be weighed and measured or needs any investigations, this will be done in the nurses' room. We sometimes need to do blood pressure checks, urine tests or occasionally a blood test.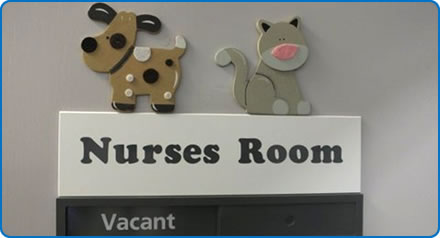 All the doctors' rooms are named after animals. You may be seen in Lion room, Tiger room, Hippo room, Flamingo room or Zebra room. The doctor will come to the playroom to call you into the consulting room.
If you need to visit the pharmacy it is in the Brunel building.
The X-ray department is also in the Brunel building or there is one at Cossham Hospital if you live near there.
After your appointment is finished we will organise your next appointment and check out at reception. Lots of children are sad at having to go home as they've had such a lovely time playing!
Please feel free to ask the nurses anything and let them know all about your child's needs and concerns. We are here for you and want you to feel happy and cared for.
Contact Westgate House Children's Centre
Westgate House Children's Centre
Westgate House
Southmead Hospital
Bristol
BS10 5LT
Telephone: 0117 4145807
 
Opening times
Westgate House clinics
Monday to Thursday 8am – 6pm 
Sister
Katy Travis
Staff Nurse
Debra Sainsbury
Health Care Assistant
Katie Allen
Receptionist
Mia Fearnley