Nutrition & Dietetics Kidney Failure (Renal)
Nutrition & Dietetics Kidney Failure (Renal)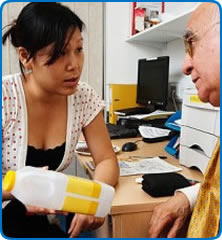 Diet plays an important part in the treatment of kidney failure.  
Waste products can build up in the blood as kidney function worsens. It may be necessary to make changes to the diet to help control the build up of waste products and the symptoms they cause.
Symptoms:
Tiredness
Altered taste
Reduced appetite
Nausea 
Shortness of breath
The dietitian will see patients at their kidney clinic appointment at Southmead Hospital Bristol and advise on altering the diet (if needed).
Information is tailored to the needs of each patient taking into consideration their:
Blood results
Kidney function
Treatment
Food preferences. 
The dietitian can provide information and ongoing support to patients on:
Eating a balanced, healthy diet
Staying well nourished if there is decline in appetite
Limiting salt intake to help blood pressure control
Reducing the intake of minerals such as potassium and phosphate in the diet if blood levels are raised
Other diet related questions
Advice may alter as the kidney function changes or following a kidney transplant. Diet should only be altered if advised by the dietitian or doctor.    
Useful contacts: