Nutrition & Dietetics Service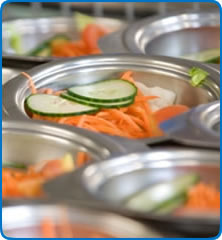 Dietitians specialise in translating scientific information about nutrition and food into practical dietary advice. As well as providing impartial advice about nutrition and health we also provide advice about dietary treatment of disease and prevention of diet related conditions eg. coronary heart disease and cancers.
The Nutrition and Dietetic Services at North Bristol NHS Trust (NBT) work with patients, healthcare staff and the general public to promote optimum nutrition. This includes:
Individuals and groups who need to change their diet and related behaviour to alleviate or cure a medical condition
Individuals and groups who can prevent disease and ill health by changing their diet and related behaviour
Work with the catering and nursing services to ensure that all patients are offered appropriate foods to meet their nutritional requirements, whilst considering their medical condition, dietary and/or cultural restrictions
Teaching and education of health professionals and the general public about nutrition-related matters.
If you have never seen a dietitian and think that you need to, you can ask your GP, practice nurse or hospital consultant to refer you depending on the nature of your condition.
If you have seen a dietitian in the past, you can telephone the dietetics department directly and ask if you would need a referral. Some conditions (for example diabetes and coeliac disease) may not need a re-referral if you have already seen a dietitian.
We offer services across the hospital and local community.
Inpatient services
Our Inpatient services team is made up of dietitians who work within North Bristol NHS Trust providing a dietetic service to all wards.
The service is available between 8.30am and 5pm Monday to Friday.
If your care team thinks you would benefit from seeing a dietitian, they will refer you directly.
The patients we see have various types of nutritional problems/requirements, for example: critically ill patients may require alternative feeding regimes, such as enteral and parenteral nutrition, as they are unable to feed themselves.
Malnutrition is common in hospital patients and it's important that it's identified and treated early to reduce recovery time and complications.
We use a range of assessment techniques to devise and review nutritional plans for patients.The aims of treatment are to improve nutritional status to aid recovery, or to control damaging biochemistry, e.g. in diabetes or renal disease.
Discharge Services
Patients who continue to need dietetic services following discharge from hospital will have a planned discharge providing continuing care between hospital and home.
Patients who are being artificially fed will be referred to the Home Management Service which will make arrangements to deliver feed products to you at home and to monitor your progress. This service covers all of Bristol, South Gloucestershire and North Somerset.
If you need an outpatient review you will either be given an outpatient clinic appointment before discharge or given the details of how to contact us to make an appointment.
Outpatient Services
Outpatient clinics are run at Southmead Hospital Bristol and Cossham Hospital where adult patients can be treated for a range of conditions, including:
Diabetes
Coeliac disease
Gastrointestinal disease
Food allergy or intolerance or nutritional deficiencies, e.g. anaemias
We also run paediatric clinics.
For further information, download patient information leaflets:
Related Information
Contact Nutrition & Dietetics
Gate 10, Level 6, Brunel building, Southmead Hospital Bristol
Telephone: 0117 4145428