The Surgery Research team is a dedicated group of nurses, administrators, and surgeons, conducting studies across three specialities – Colorectal, Upper Gastrointestinal (UGI), Breast care and Vascular.
Our research is supported by the Department of Health with our research projects encompassing a wide breadth of both laboratory-based and clinical work, to improve patient health, wellbeing and care.
We work on a range of commercial and non-commercial, qualitative and quantitative projects and collaborate with colleagues locally, nationally and internationally in order to improve outcomes for patients suffering from various conditions. 
These may require surgical intervention, including but not limited to:
Colon cancer

Breast cancer

Reconstructive surgery

Aneurism surgery – both open and endovascular

Leg ulcers

Wound care

Limb ischaemia
Our work benefits patients not only here in the NHS, but also increases care standards globally.
The team has a wealth of experience conducting research studies and trials, and improving training, guidelines, and patient outcomes.
Our staff work in close collaboration with a number of partners, primarily linked with the University of Bristol and University of the West of England (UWE) as well as a number of other NHS Trusts.
We also work closely with Bristol's Haematology and Oncology Centre (BHOC) and operate a shared care research pathway between us so patients can receive the highest standard of care whilst taking part in a research study
Meet the Team:
Samantha Loud
Lead Research Nurse
Sam currently works as the Lead Research Nurse for the Surgery Research team (overseeing Breast Care, Colorectal and Vascular Research) at Southmead Hospital, managing a team of 8 competent research practitioners. Having qualified in 2000 as a Children's Nurse, she began her career working in the Paediatric Intensive Care Unit at Bristol Children's Hospital where she worked for 7 years. She then moved and worked for 4 years on a busy Surgical and Trauma ward.  
After seeing an advert for the opportunity of a research nurse post at led jointly with NBT (North Bristol Trust) and UoB (University of Bristol) working with Children and their families researching into the risk of developing Type 1 diabetes she jumped at the chance for a new challenge. She spent 9 years in this post working her way up, initially as a junior nurse band 5 to a senior nurse band 7 role where she then led the team and managed the research project. This came to an end in 2020 when the study funding finished.
Sam was then offered the opportunity of a completely new role and challenge within NBT as the Senior Research Nurse for Surgery. This involved putting together 3 small teams with 3 different areas of Surgery research: Colorectal cancer and surgery, Breast cancer and surgery and Vascular surgery with the intention of bringing them together as one team. This has been a success; the team has grown from 4 to 8 dedicated research nurses and administrators and is still growing! We have opened and reopened many studies across the 3 areas which are recruiting well.
Sam has lots of plans to extend this over time and build a bigger team to be able to cover more areas of surgery in the future.
Breast Care Portfolio:
Sasirekha Govindarajulu
Consultant Breast Care Surgeon
Miss Sasirekha Govindarajulu has worked in the Breast Unit at Southmead Hospital Bristol for the past 12 years and maintained the highest possible standard of care for patients, always seeking to improve the experience of patients.
With continuing interest in research, publications and lecture tours maintained high standards of care for patients: Faculty of the national ultrasound course, Faculty of the National vacuum assisted mammotomy training course, National peer review panel, Faculty National Survivorship Programme Patient User and information lead for ASWCS network.
As an Audit Lead of the breast unit, Miss Govindarajulu is always passionate about standards and excellence of care.
Her clinical interests are diagnosis and treatment of breast cancer, including surgery for breast cancer and reconstructive surgery, sentinel node biopsy for breast cancer assessment, diagnosis and management of all benign problems including breast pain. Miss Govindarajulu is also experienced in performing diagnostic breast and axillary ultrasound, diagnostic and therapeutic ultrasound guided interventional procedures, ultrasound guided minimally invasive procedures for therapeutic excision of benign lumps using vacuum assisted procedure and radio frequency ablation, and localising small lesions with ultrasound. 
Her clinical interests also include latissimus dorsi breast reconstruction, all implant-based reconstructions including use of acellular dermal matrix, breast reduction and augmentation, and symmetrisation procedures and other onco-plastic procedures.
Anjum Mahatma
Consultant Breast Care Radiologist
FRCR

Consultant Radiologist with subspecialty interest in Breast Radiology

Clinical Governance lead of Breast Care Unit

Principal Investigator of Mammo-50 Trial

Educational Supervisor
Alexandra Valencia
Consultant 

Breast Care

Radiologist

Alexandra was appointed as a Consultant Radiologist at the Bristol Royal Infirmary and Avon Breast Screening in 2006, and was Director of Screening from 2012-2019, co-leading on the centralisation of breast services in Bristol. She was Clinical Lead for the Bristol Breast Care Centre from 2018-2020, and has been a Professional Clinical Advisor for PHE since 2014. Alexandra is currently a member of the Breast Screening Clinical Professional Group and the Clinical Advisory Group. Her main interests are Breast MR and breast interventional procedures as well as Quality Assurance in the NHSBSP and increasing the efficiency of breast screening and symptomatic pathways.
Michelle Mullan
Oncoplastic Breast Consultant
Michelle qualified from the University of Bristol in 1995 and underwent her surgical training in Bristol and the West Midlands. She has always been interested in breast disease and undertook research at The Royal Surrey County Hospital in sentinel lymph node biopsy, as part of the Medical Research Council ALMANAC Trial. Michelle has been appointed as a Trustee for the Association of Breast Surgery and sits on the Clinical Practices and Standards Committee.
Her advanced surgical training in Oncoplastic Breast Surgery was in the UK and the United States, practising at the University of Michigan, Ann Arbor, and the Henry Ford Institute in Detroit. She was admitted as a Fellow of the Royal College of Surgeons of England in 2006. In 2008 Miss Mullan won the European Society of Surgical Oncology Travelling Scholarship and spent her time at the Nottingham Breast Institute. Her first consultant appointment was in Worcestershire in 2008, where she was Lead Cancer Clinician for the county. She was appointed to her current position as an Oncoplastic Breast Consultant at North Bristol NHS Trust in 2019.
Her clinical interests include breast cancer surgery using oncoplastic techniques (surgery with minimal scarring), sentinel lymph node biopsy, lipofilling of breast defects (Colman fat transfer), breast reconstruction, nipple reconstruction and nipple tattooing.
Joanna Thompson
Breast Care Research Nurse
Jo qualified as a nurse in 1998 and a midwife in 1993. She has worked as both a hospital and community nurse before starting to work in Research in 2018.
Initially she worked on community urology studies (the PRIMUS study which involves performing urodynamic studies in the community and the Triumph study looking at symptomatic management of urinary symptoms.) She then returned to work in the hospital and worked on the FUTURE study, evaluating urgency in women.
During the COVID-19 pandemic she worked on the vaccine trials and numerous other public health studies.
She is now lead nurse on the CHANCE study, looking into a cause for unexplained recurrent miscarriage, and the PROSPECTS study, a large study comparing 2D and 3D mammography for usual breast screening care.
She is passionate about developing new treatments and providing high quality care especially around women's health.
Emily Allam
Breast Care Research Nurse
Linda Bourton
Breast Care Research Nurse
Alexander Rose
Breast Care Research Admin
Colorectal & Upper Gastrointestinal (UGI) Portfolio:
Dr Anne Pullyblank
Consultant Colorectal Surgeon
Anne was appointed consultant colorectal surgeon at North Bristol NHS Trust in 2003 and has held many leadership positions within the trust including chair of the clinical risk committee, Clinical Director for Surgery and lead for colorectal and emergency surgery. Anne performs open and laparoscopic bowel (keyhole) surgery and has an interest in bowel cancer, surgical infections, vacuum dressing for the open abdomen and emergency surgery.  She was awarded an MD for laboratory-based research from University of London examining the role of monoclonal antibodies in colorectal cancer. She was principal investigator for CREST, PPAC2, Bluebelle, Selfi and DISCOVER. She is currently PI for VODECA, CREST2 and CONSIDER-19 and sits on the trial management group for CREST2.
Kathryn McCarthy
Consultant Colorectal Surgeon
Miss Kathryn McCarthy studied at UCL (1993-1998), attained her MD with the University of London (2005), following which she completed her FRCS at Royal College of Surgeons of England (2007), and her Gynaecological Fellowship (2009) and Laparoscopic Subspecialty Fellowship in Glasgow (2011-12).
Her clinical interests include laparoscopic colorectal surgery, endometriosis and pelvic surgery. Her academic interests include the IGF pathway in colorectal cancer and surgical outcomes in older people (OPSOC.eu). Her subspecialty interests include minimally invasive trans anal surgery, early rectal cancer and pelvic floor surgery.
She is clinical lead for Endoscopy and GI physiology. Nationally, she is the NIHR lead for surgical research (West of England).
She is also a member of The Royal College of Surgeons of England, National Pelvic Floor Society and European Society of Coloproctology.
Ann Lyons
Consultant Colorectal Surgeon
Miss Ann Lyons was appointed as a consultant colorectal surgeon at North Bristol Trust in 2005. Prior to joining North Bristol NHS Trust, Ann was a fellow at international centres of St Marks Hospital, London and Mount Sinai Hospital, Toronto expanding her management of complex pelvic conditions. Graduated with Hons, Surg and Antomy Medal Ann completed by Higher Surgical Training in the South West Deanery, centred on Bristol. During her Higher Surgical Training, she had valuable out of training experience, educated with Professor Hohenberger in colon and rectum cancer surgery and Prof Matzel in pelvic floor disorders, in the University of Erlangen. She has actively engaged programmes for cancer patient communication,  including in the NCAT cancer care programme 2013.
Within this experience Ann has developed a holistic approach to cancer care, and a specialty interest in delivering safe careful pelvic surgery for regional patients; and surgery for early and advanced cancer. I have extensive experience in minimally invasive surgery.
Ann has clinical, educational and research experience. Awarded MD for her bench to bed side T cell immune response to major stresses, Harvard Medical School and since appointment has been PI for several clinical research trials at North Bristol NHS Trust. Ann has presented both nationally and internationally.  Ann is the lead surgeon for Colon and Rectum Cancer at North Bristol. She has a position on the SWAG CAG Colorectal Cancer Alliance.
Miss Ann Lyon is a member of RCSE, ACPGBI, ESCP, ASCRS and RSM.
Andy Smith
Colorectal Surgeon 
Angus McNair
Colorectal Surgeon 
Jodie Rawlings
Colorectal Research Nurse
James Hopkins
Upper Gastrointestinal Surgeon
Vascular Portfolio:
Dr Marcus Brooks
Consultant Vascular Surgeon
Dr Marcus Brooks is a Consultant Vascular Surgeon at North Bristol NHS Trust, Honorary Secretary elect for the Vascular Society of Great Britain and Ireland, and clinical member of NHSE Specialised Services Vascular Clinical Reference Group. His main clinical interest is in the management of aortic disease, including complex endovascular repair of aortic aneurysms and aortic dissection. 
He is also the Principal Investigator for the EXcel Registry (Gore Conformable aortic stent graft) in the UK and also recruits to the COMPASS trial (Observational study of patients with juxta-renal abdominal aortic aneurysms).
Chris Twine
Vascular Surgeon
Chris is a vascular surgeon in Bristol and is clinical lead for vascular research. He has a research interest in amputation, chronic limb threatening ischaemia and antithrombotic therapy for peripheral arterial disease. He is an associate editor of CVIR endovascular and is on the editorial board of the European Journal of Vascular and Endovascular Surgery. He is a council member of the British Society for Endovascular Therapy where he is research lead, the Vascular Society special interest research group for peripheral arterial disease where he is intervention lead, and the European Society of Vascular Surgery guidelines steering committee where he is chair of the upcoming antithrombotic guideline. He has published over 100 original papers and his scientific work has received several prizes.
More information about Chris and his work can be found on the University of Bristol website.
Helen Cheshire
Vascular Research Nurse
Helen is a senior research nurse specialising in vascular. She has worked for North Bristol NHS Trust since 2015. Prior to this Helen was a key member of the intensive care team at the Bristol Royal Infirmary, where she worked as a senior nurse for sixteen years.
Helen has extensive experience, spanning multiple studies and specialties, delivering ground-breaking research. She ran gastro-hepatology research for two years, before moving to lead the vascular portfolio in 2017. Under Helen's leadership, the vascular portfolio has grown exponentially.
Helen welcomes the challenges research presents as a continuously growing field. It can enable patients to participate in adjustments that result in a longer, better quality of life.  She enjoys working at the forefront of new developments in treatments for our patients.
Cross-portfolio team:
Shinu Jackson
Surgery Research Nurse
Alice Smith
Research Administrator - C
olorectal & Vascular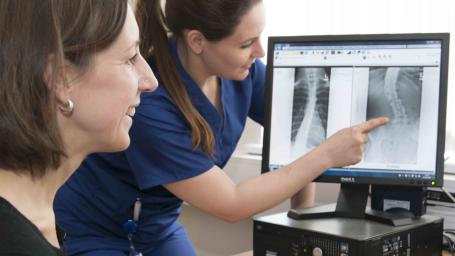 Become one of the thousands of people taking part in research every day within the NHS.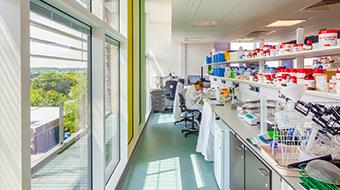 Find out more about our research and how we're working to improve patient care.
Contact Research
Research & Development
North Bristol NHS Trust
Level 3, Learning & Research building
Southmead Hospital
Westbury-on-Trym
Bristol, BS10 5NB

Telephone: 0117 4149330
Email: research@nbt.nhs.uk