North Bristol NHS Trust is committed to research that can improve the outcome of its patients and their experience of its services.
Working collaboratively with care providers across the geographical area, we seek to ensure that everyone we meet has equal access to research. With patients and the public at the heart of all we do, our four main aims are; to empower patients in research, support and nurture our workforce, make research visible in day to day activity, and work with our regional partners to improve healthcare.
This commitment has enabled us to deliver research both on time and to target, which ultimately leads to the highest quality outcomes and improved care for our patients.
Here Helen Lewis-White, Deputy Director of Research, shares an update about the extraordinary efforts of the R&I team across 2020/21 – taken from the NBT Annual General Meeting 2021:
Video Transcript
Hello my name is Helen Lewis-White, the Deputy Director of Research & Innovation here at North Bristol NHS Trust.
The last 12 months have been hopefully unique. We've experienced so much, achieving unprecedented highs but also the devastating lows of losing one of our own to COVID. Research has been front and centre of everyone's lives, whether you took part in research or not, as it helped plot our paths out of lockdown and a return to a more normal life.
So what did we do? The COVID Vaccine Research team comprised dozens of doctors research nurses administrators and well over 1300 participants who joined the studies, giving up their time and energy, to support the trials and become the country's vanguard to the development of vaccines. The camaraderie of the super vaccine days when scores of participants attended for two-hour visits, all in the course of a day, gave a vibrancy to the days as everyone felt the potential impact they were having in their own unique way.
To ensure greater representation across our communities, the lead investigator and other colleagues, spoke to staff and communities to ensure they knew about the studies and answer the questions that were important to them. Our NBT Vaccine Research team also supported other Trusts to build their skills and capacity to deliver research, ensuring vaccine trials were offered not just at Bristol, but with our colleagues in Bath, Gloucester and Swindon.
In addition to the vaccine studies, NBT also supported and developed a large number of other COVID studies designed to treat and understand this new disease. Through these trials, clinicians were able to access potential treatments much earlier and, by this time last year, the first were being given as standard care. An NBT-led study is helping us to understand how biological markers could be used to predict outcome, how far droplets spread during clinical procedures, and which was the most suitable PPE to protect our patients and our staff, and we looked at the psychological impact COVID had had on our frontline medical colleagues across the country.
But to deliver so much COVID research, we had to reduce our non-COVID studies. The decision made to halt and curtail some of our non-COVID research work were the most difficult we had to make, knowing the impact we would have on patients and staff. To keep as many open as possible, the team changed how they delivered every aspect of research. It is a credit to the courage of the patients to remain in the studies, supported virtually, or for some vulnerable patients, continue with face-to-face visits in their home following very strict infection control policies. But it still took incredible courage and dedication on their part to stay in the studies.
But more recently, seeing the enthusiasm and the joy of restarting the non-COVID studies, and again welcoming patients into the Clinical Research Centre, the Brain Centre, and the other research-active areas across the Trust. Throughout this period, R&I continue to support our clinicians to develop grant proposals born from their clinical experience and the need they saw. Despite the additional challenges COVID has thrown at the teams, NBT has had its most successful year.
91% of the NIHR grants submitted have been awarded across multiple clinical disciplines; Breast Care, Brain Tumour, Maternity, Orthopedics, Emergency Medicine, Speech & Language Therapy and COVID. And while all this has been happening, our vulnerable staff had to adapt to working remotely, and the challenges of remaining part of a team while shielding. The courage and dignity they showed throughout, never letting their fear and isolation affect their dedication and professionalism, has been truly inspirational.
Like the rest of the NHS, Research is looking at what we did well, and what we must improve. A collaborative, flexible pragmatic approach to delivering trials, needs to be maintained, reducing face-to-face visits unless absolutely necessary, which is better for our patients, and better for the environment. But recognizing and addressing the challenges of ensuring everyone in our community is included and has an opportunity to participate in research must be taken forward.
My personal takeaway, the last 12 months has highlighted the huge difference people can make through small acts of kindness, the patient having a blood test explaining to the nurse that she was the first person to touch her hand in five months, and the nurse taking the time to hold the patient's hand in solidarity. The heroism of all of our team members, whether deployed to ICU or frontline areas, working from the isolation of shielding, supporting the COVID studies on the mass recruitment days of the vaccine trials, and my personal pride of being part of this amazing team and how much we've achieved.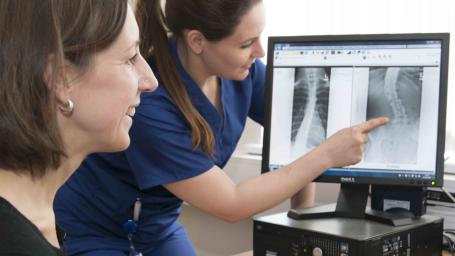 Become one of the thousands of people taking part in research every day within the NHS.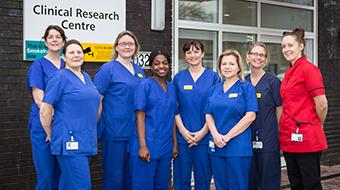 Want to find out more about our research? Simply get in touch with a member of our team here.
Contact Research
Research & Development
North Bristol NHS Trust
Level 3, Learning & Research building
Southmead Hospital
Westbury-on-Trym
Bristol, BS10 5NB

Telephone: 0117 4149330
Email: research@nbt.nhs.uk