If you are being treated by us, you may be invited to take part in one of our studies related to your particular health condition.
Our research studies often seek many recruits, but in order to participate they must meet certain eligibility criteria. These criteria may concern a patient's type of disease, history, age, gender, etc. They can also be quite specific to ensure that the people who take part are not exposed to avoidable risks. At North Bristol NHS Trust, we regularly identify participants for research based on these factors, informing patients of any treatments we may have in development that may benefit them.
Why take part?
Clinical research is essential for developing better treatments and improving healthcare. Many patients take part in clinical research to help us to find the best ways to:
Prevent disease and reduce the number of people who become ill.

Treat an illness to improve survival or increase the number of people cured.

Improve the quality of life for people living with an illness, including reducing symptoms of disease or the side effects of other treatments, such as cancer chemotherapy.
Health professionals and patients need the evidence from trials to know which treatments work best. Without trials, there is a risk that people could be given treatments which have no advantage, waste resources and might even be harmful. Many treatments that are now in common use in health care were tested in clinical trials.
Is it safe to take part?
All clinical research undertaken at North Bristol NHS Trust is reviewed by an NHS Research Ethics Committee and approved by the Health Research Authority before it can start. This ensures the rights, dignity, safety and wellbeing of the patients who take part are protected.
Each study is designed to keep risk to a minimum. The people who take part are actively monitored throughout, with their safety and wellbeing always coming first.
If you have any questions or concerns about a trial you wish to take part in, speak to the clinician in charge of your care.
It is ok to ask about research.
To see the full range of research that is currently taking place across the hospital, please visit Our Research pages.
Support our mission to improve patient care by donating to Research today.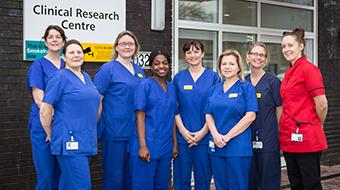 Want to find out more about our research? Simply get in touch with a member of our team here.
Contact Research
Research & Development
North Bristol NHS Trust
Level 3, Learning & Research building
Southmead Hospital
Westbury-on-Trym
Bristol, BS10 5NB

Telephone: 0117 4149330
Email: research@nbt.nhs.uk