With ongoing support from Southmead Hospital Charity, the DISCOVER study aims to collect blood samples and other routinely collected microbiological samples as well as medical information from patients with suspected coronavirus.
These blood samples will be analysed for both routine and new tests. Patients will be followed up with after one month to see how coronavirus affected them, and to see how useful the blood tests were at predicting their condition.
Biological samples will also be stored (anonymously) for future research on how COVID-19 makes people ill. In the future, this information could help doctors decide which tests are useful in managing coronavirus.
Dr David Arnold, a Respiratory Doctor at NBT, shares more about the importance of the DISCOVER study:
Video Transcript
Hello, my name is David Arnold, I'm a Respiratory Doctor here at Southmead Hospital and part of the NBT COVID-19 Research Team.
The research response at NBT to COVID-19 has been amazing, with nearly every patient recruited to at least one of our open clinical studies. One of these studies is called the DISCOVER study which is NBT led and set up by me and one of the Microbiology Doctors, Fergus Hamilton.
The Southmead Hospital Charity is supporting us in continuing the DISCOVER study, which aims to analyse blood-based biomarkers from patients who are admitted with the coronavirus.
Because one of the really important decisions that healthcare professionals have to make when seeing a patient with COVID-19 is who can be safely discharged home to recover there and who needs to be admitted to hospital for closer monitoring and support.
But we can do so much more with these samples as well. And with collaborations with the University of Bristol's UNCOVER group, as well as Public Health England, we can look at immunity following the virus, as well as secondary infections and respiratory compromise when people are recovering.

Study Results:
Patient outcomes after hospitalisation with COVID-19 and implications for follow-up; results from a prospective UK cohort
Of those who participated in the DISCOVER study, researchers have found that three quarters of the group who received care for COVID-19 were still suffering ongoing symptoms three months later.
81 out of 110 discharged patients were still experiencing symptoms such as breathlessness, excessive fatigue and muscle aches when invited back to clinic.

Many were also suffering from poor quality of life compared to the rest of the population, struggling to carry out daily tasks such as washing, dressing or going back to work.
Most of the patients did, however, report improvements in their initial symptoms of fever, cough and loss of sense of smell. Reassuringly, the majority of patients had no evidence of lung scarring or reductions in lung function.
Speaking of the findings, Helen Lewis-White (Deputy Director Research & Innovation) said:
"There's still so much we don't know about the long term effects of coronavirus, but this study has given us vital new insight into what challenges patients may face in their recovery and will help us prepare for those needs. 

We're pleased that researchers at Southmead Hospital are leading the way, and hope our findings can help patients and their GPs understand the course of post-COVID illness and the role of routine tests."
To find out more about these discoveries, read the full pre-print report.
Please note this is a preprint, so it is a preliminary piece of research that has not yet been through peer review and has not been published in a scientific journal – so this is early data.
Are vaccines safe in patients with Long COVID? A prospective observational study?
The DISCOVER study followed a cohort of patients who were admitted with COVID-19 in 2020, many of whom remain highly symptomatic. It then compared those who received a vaccine to those who didn't.
94% of participants had no worsening of symptoms after receiving the vaccine compared to 86% of unvaccinated sufferers from the same study.

23% of the patients with Long COVID actually saw an improvement in symptoms after receiving a vaccine, compared with 15% of the same Long COVID patient group who were unvaccinated.
The study follows uncertainty and concern amongst Long COVID sufferers on the impact the vaccine may have on their symptoms, with anecdotal reports suggesting both worsening and improvement of symptoms.
The study has found that for patients suffering with Long COVID, receiving a COVID-19 vaccine did not worsen their symptoms, which will be of great reassurance to many.
Speaking of these findings, Dr Fergus Hamilton from North Bristol NHS Trust said:
"This is really positive news for those with Long COVID. This study confirms that the COVID-19 vaccines do not worsen symptoms with a hint that they could actually improve them for some people. We hope this provides reassurance for anyone with Long COVID who may have been hesitant to get the vaccine, and we would encourage everyone to get the jab when invited."
To find out more about these discoveries, read the full pre-print report.
Please note this is a preprint, so it is a preliminary piece of research that has not yet been through peer review and has not been published in a scientific journal – so this is early data.

Thank you to all of our research teams who are making such a different to people's lives, and also to Southmead Hospital Charity which is raising much-needed funds for COVID-19 research.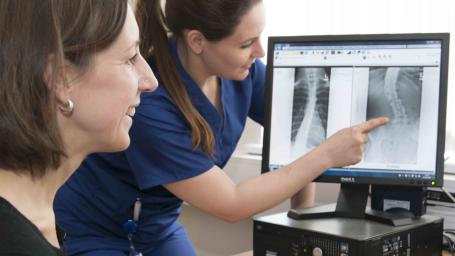 Become one of the thousands of people taking part in research every day within the NHS.
Contact Research
Research & Development
North Bristol NHS Trust
Level 3, Learning & Research building
Southmead Hospital
Westbury-on-Trym
Bristol, BS10 5NB

Telephone: 0117 4149330
Email: research@nbt.nhs.uk