The blood disorders research team at North Bristol NHS Trust co-ordinates and supports the delivery of clinical trials across a variety of haematological conditions including, myeloma, lymphoma, leukaemia, myeloproliferative neoplasms (MPNs), and immune thrombocytopenic purpura (ITP).
Our wide portfolio of cancer research makes us one of the largest cancer centres in the South West, with over 200 new blood cancer cases being diagnosed over the last year. Of this total, we currently have over 100 patients taking part in blood cancer trials at North Bristol NHS Trust.
In 2017 NBT was also designated a Myeloma UK Clinical Trials Network Accessory Site. This means that our patients are able to access to drugs that are not currently available on the NHS.
Please speak to the person treating you to find out if there is a research study that may be able to help you.
Current Studies:
Identifying and validating molecular targets in nervous system tissue (IVMBT)
Currently benign and malignant brain tumours are treated by surgery or radiation therapy plus or minus chemotherapy. The aim of the study is to discover and validate new molecular biomarkers and drug targets for brain tumours using laboratory research and comparing the findings with control tissue.
This includes also using tissues, blood fractions and cell culture from patients with brain tumours. We hope that in vitro research will reveal biomarkers for these tumours which in the future could indicate successful drug action or are specific for a genetic subtype of tumour. In addition, we hope that these biomarkers could aid early diagnosis of central nervous system (CNS) tumours.
Project Details
Principal Investigator: Dr Kathreena Kurian
Planned End Date: 20/07/2024
Local Ref: 4626
UK ITP REGISTRY
The UK Adult ITP Registry aims to collect clinical data (co-morbid conditions, ITP-specific treatments, laboratory results, and bleeding events) and biological samples (whole blood [15 mL, ~EDTA] or saliva [Oragene saliva kit])on adult patients with primary immune thrombocytopenia (ITP) in an effort to investigate outstanding questions in disease progression, treatment effectiveness, and co-morbid burden.
Project Details
Principal Investigator: Dr Miloslav Kmonicek
Planned End Date: 30/06/2023
Local Ref: 3523
PiMMs
This study will investigate the real-world outcomes for patients receiving Panobinostat for myeloma at hospitals in England.
The primary objective is the evaluation of progression-free survival (PFS) of relapsed/refractory multiple myeloma (RRMM) patients receiving panobinostat in combination with bortezomib and dexamethasone following at least 2 prior regimens including bortezomib and an immunomodulatory agent. The study will also investigate other measures of response depth and length, toxicity and tolerability as measured by incidence and severity of adverse events and dose modifications in real world practice, and health economics measures, determined by number of outpatient, inpatient, and intensive care admissions and length of inpatient stay while on active treatment with Panobinostat.
The study will comprise the retrospective collection of existing routine clinical data, with no additional input required from patients.
Project Details
Principal Investigator: Reuben Benjamin
Planned End Date: 10/08/2021
Local Ref: 4976
ENRICH
Mantle cell lymphoma is a rare but aggressive form of non-hodgkins' lymphoma that typically affects older patients.
For younger, fitter patients the most effective treatment is considered to be stem cell transplantation. For older patients, this is not an option and they are generally offered a combination of chemotherapy and rituximab.
The purpose of this study is to compare the effect on progression free survival of treatment with ibrutinib given in combination with rituximab (IR) against treatment with standard chemotherapy given in combination with rituximab.
Participants will receive treatment for 24 weeks, followed by a 2 year maintenance period. They will then be followed up until disease progression or the end of the study, whichever comes first. We are also interested in the cost of delivering these two types of treatments, the quality of life they give patients and the side effects they cause.
This is a multi-centre, open label, integrated phase II/III randomised controlled study in untreated patients with mantle cell lymphoma who are over the age of 60 and are therefore considered unsuitable for stem cell transplant. There will be an interim analysis after 77 evaluable participants have completed 24 weeks of treatment with IR in order to establish that the overall response rate with IR is high enough to justify continuing to a phase III study.
We will recruit 400 patients from as many hospitals and cancer centres in the United Kingdom as have the capacity to open the study.
ENRICH is funded by Cancer Research UK and the ibrutinib is supplied and distributed free of charge by Janssen. Janssen have also provided funds for a sub study to explore the value of minimal residual disease flow cytometry in mantle cell lymphoma.
Project Details
Principal Investigator: Samreen Siddiq
Planned End Date: 31/12/2024
Local Ref: 4450
FiTNEss MYELOMA XV
Myeloma is a cancer diagnosed in around 5500 patients within the UK, each year. The development of treatments have increased life expectancy in all patients, but these have been less effective in older and frailer patients. There is no evidence to suggest their Myeloma is more aggressive, so it needs to be asked why this is the case.
Research is beginning to look at older Myeloma patients who are ineligible for transplants. Myeloma XI, a trial previous to this run at the CTRU, where 1840 of these patients were recruited, has shown that treatment outcomes were not necessarily associated with different combinations of treatment. Frailty-adjusted can potentially show how problems developed during treatment that are not responding effectively so it can be minimised.
All participants receive induction treatment with ixazomib, lenalidomide and dexamethasone and are randomised on a 1:1 basis at trial entry to either frailty score-adjusted treatment vs.standard up-front treatment followed by toxicity dependen dose modifications during therapy. Following 12 cycles of induction treatment participants alive and progression-free undergo a second randomisation.
In the second phase of the trial, patients will be tested to assess whether lenalidomide and ixazomib is effective as a maintenance treatment. Patients will either receive lenalidomide and ixazomib, or lenalidomide and placebo (something that has a similar taste and appearance to ixazomib but has no effect on the person) to test this. Participants and their treating physicians will be blinded to maintenance allocation.
Project Details
Principal Investigator: Dr Alastair Whiteway
Planned End Date: 01/07/2025
Local Ref: 4420
PETReA
Follicular lymphoma (FL) is a slowly growing cancer of the lymph glands. It often responds well to treatment but has a tendency to come back again (relapse) and therefore needs to be treated more than once.
Initial treatment is usually with a 6-month course chemotherapy combined with an antibody drug called rituximab (R+chemo). Most patients who respond to R+chemo are offered further (maintenance) therapy with rituximab alone over a period of 2 years with the aim of delaying relapse. However, there is growing controversy about the routine use of rituximab maintenance after initial R+chemo for the following reasons: (1) It does not prolong survival; (2) It is associated with an increased risk of infection (responsible for 7-8% of all deaths in FL); (3) It prolongs remissions only in the minority of patients whose disease was destined to relapse within 2-3 years. A one-size-fits-all approach to rituximab maintenance is therefore not ideal as many patients will experience complications without deriving any benefit.
The PETReA trial will use a new scanning technique called Positron Emission Tomography (PET) to identify which patients are more or less likely to benefit from rituximab maintenance after initial R+chemo treatment.
We know that patients whose PET scans return to normal have a low-risk of early relapse, and the trial will therefore investigate if rituximab maintenance can be omitted in this group. In contrast, patients whose PET scans remain abnormal have a high risk of early relapse. The trial will investigate whether this group will benefit from the addition of a drug called lenalidomide to rituximab maintenance.
PETReA, which is funded by Cancer Research UK, aims to recruit more than 800 patients from across the UK over a period of 4.5 years and is potentially available for any patient with FL who requires initial R+chemo treatment.
Project Details
Principal Investigator: TBC
Planned End Date: TBC
Local Ref: TBC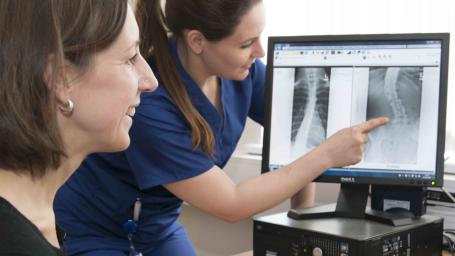 Become one of the thousands of people taking part in research every day within the NHS.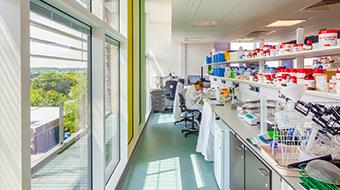 Find out more about our research and how we're working to improve patient care.
Contact Research & Innovation
Research & Innovation
North Bristol NHS Trust
Floor 3, Learning & Research Centre
Southmead Hospital
Westbury-on-Trym
Bristol, BS10 5NB

Telephone: 0117 4149330
Email: research@nbt.nhs.uk