A vital branch of our Acute Care Department, the Emergency Department Clinical Research Team deliver national and international multi-centre studies in Emergency Medicine and trauma related specialities, working to advance the care that we give to our patients.
The team also work closely with colleagues across the Trust and beyond to develop new and innovative research ideas that test new treatments especially in the fields of major trauma and emergency medicine.
Please speak to the person treating you to find out if there is a research study that may be able to help you.
Current Studies:
CRYOSTAT-2: A multi-centre, randomised, controlled trial evaluating the effects of early high-dose cryoprecipitate in adult patients with major trauma haemorrhage requiring major haemorrhage protocol (MHP) activation
Every year in the UK, trauma (e.g. car accidents, stabbings) kills 12,500 people, with most of those who die under the age of 45. For the same age group that is more than cancer, HIV/AIDS and heart disease combined. One of the most common causes of death in trauma patients is uncontrolled bleeding. At present, standard treatment for severe bleeding involves rapid infusion of red blood cells and blood components e.g. plasma and platelets in large volumes. Until recently one out of every two people who received a massive blood transfusion (more than 10 pints) would die from their injuries.
Two important studies involving bleeding trauma patients have been conducted in the last five years showing that early intervention is more effective after injury and may help save lives. Patients who have severe bleeding after injury develop a problem with their clotting system which means that they tend to bleed more. One of the main problems is due to low levels of fibrinogen, a clotting protein normally circulating in the bloodstream. Fibrinogen acts as the 'glue' which holds a blood clot together and at low levels, blood clots don't form properly and bleeding can continue. Cryoprecipitate is a frozen blood component prepared from plasma and rich in fibrinogen. By transfusing cryoprecipitate early to replace fibrinogen levels in bleeding trauma patients we believe blood clots will be more stable and reduce bleeding.
We propose to undertake a large research study, called a randomised controlled trial where patients are randomly divided into two groups and treatments are compared: A) standard treatment with normal blood transfusions B) early cryoprecipitate + standard treatment with normal blood transfusions, to see if cryoprecipitate can improve survival in trauma patients with severe bleeding.
In UK hospitals, results from a large study across 22 centres show that cryoprecipitate is given on average three hours after injury. We think this is too late and want to give a high dose of cryoprecipitate within 90 minutes of a bleeding trauma patient's admission to hospital.
This study will determine whether or not giving cryoprecipitate treatment reduces death rates. Trauma patients with severe bleeding who are taken to any Major Trauma Centre across the country will be eligible to enter the trial. The results of this study will have the potential to influence the way doctors and nurses all over the world treat trauma patients.
Project Details
Principal Investigator: Dr Edd Carlton
Planned End Date: 30/12/2021
Local Ref: 3971
UK REBOA Study
In the UK around 5800 people die annually after being severely injured. One reason these patients die is because they have suffered from massive internal bleeding. If a way was found to stop this bleeding, lives could be saved.
A new treatment has been developed that could help – it is called "REBOA" (Resuscitative Endovascular Balloon Occlusion of the Aorta). REBOA involves doctors inserting a small balloon directly into the patient's main artery and inflating it. The balloon then blocks the artery, temporarily stopping the blood flow. Stopping the blood flow in this way gives doctors time to operate. It also helps to keep blood circulating to the brain and heart. However, the parts of the body below the balloon are cut off from the normal blood flow and this may result in short- or longer-term problems.
REBOA has not been widely used because it is new, complicated to learn and we are not certain how safe and effective it is. Only three studies have been published comparing the results of patients who have received REBOA against those who did not, and results are conflicting –two studies showed REBOA was better, the other that it was worse.
In England, severely injured patients are treated in Major Trauma Centres. One Major Trauma Centre in London has now introduced REBOA and many other UK hospitals are also interested in using this technique. It is therefore important that we try to evaluate whether it is better or worse to use REBOA before it is adopted more widely into the NHS.
The aim of this study is to establish, via a randomised controlled trial, the clinical and cost-effectiveness of standard major trauma centre treatment plus REBOA, compared with standard major trauma centre treatment alone, for the management of life-threatening torso haemorrhage in UK major trauma centres.
Project Details
Principal Investigator: Dr Julian Thompson
Planned End Date: 31/03/2023
Local Ref: 4237
Wound Healing In Surgery for Trauma (WHIST)
WHIST is a large randomised clinical trial comparing negative pressure wound therapy (NPWT) with standard dressings for patients with surgical wounds associated with major trauma to the limb.
All adult patients sustaining major trauma, and who require surgery for their limb injuries, will be able to take part in the trial. A total of 1540 patients will take part at several hospitals in the UK. Half of the patients will receive standard wound management and the other half NPWT.
The treatment for each individual patient will be decided by chance using a computer programme. The patients will be kept under review in the hospital clinics for a minimum of 6 months, which is the usual NHS practice after such injuries. We will record any signs of infection and take a photograph to assess wound healing. We will ask the patients themselves to rate the quality of their wound healing. We will also use questionnaires to measure the patients function and quality of life at 30 days, 3 months and 6 months after the injuries.
The main analysis of the trial will investigate differences in the number of patients who develop a wound infection in the 30 days after their injuries. This will allow us to determine whether NPWT reduces the rate of infection.
Project Details
Principal Investigator: Mr Andrew Riddick
Planned End Date: 30/10/2023
Local Ref: 3706
SHED – Subarachnoid Haemorrhage in the Emergency Department
Our aim is to understand how best to investigate acute severe headaches, which are suggestive of a condition called subarachnoid haemorrhage (SAH). SAH is a potentially severe cause of headache in the UK and requires urgent identification and treatment. It is defined as the presence of blood within one of the layers of the brain. At its most serious, it can cause death and severe disability.
We want to understand the accuracy of CT brain scanning in the Emergency Department (ED) and how this accuracy changes with time.
We will collect data on patients presenting to the Emergency department that have headaches reaching peak intensity within one hour. These are the classic headache patterns that raise concern with clinicians about the possibility of SAH. We will use this data to try and validate recently proposed clinical rules, and CT brain strategies, which suggest they can exclude the possibility of SAH with a high degree of precision.
With this information, we will be able to inform clinicians how accurate CT brain scans are safely excluding SAH. Further to this, we will highlight how this accuracy changes depending on the timing of the scan, using hourly intervals from onset of the headache. We will also evaluate the accuracy of clinical decision rules (without any brain scans) to exclude the condition of SAH.
Project Details
Principal Investigator: TBC
Planned End Date: TBC
Local Ref: 4761
RELIEF – The Randomised Evaluation of early topical Lidocaine patches in Elderly patients admitted to hospital with rib Fractures
We know that pain from broken ribs can be severe. Currently, to control the pain, strong pain killers, like morphine, are often used. These can cause side-effects like constipation and confusion in older people. We have identified that a patch containing a numbing medication (anaesthetic) called lidocaine, put on the skin over the broken ribs very soon after injury, may help to control pain and improve breathing with fewer side effects. Older people are likely to benefit most from these patches but there is no research to support this.
In this small study we hope to find out whether a larger study could work by seeing how many patients are willing to take part and whether the information we collect is complete. We will also see if patients get chest infections or medication side-effects in the 30-days after injury, to see whether the patches could help. We are looking for about 100 older people (aged 65 years or older) in the Emergency Department, who are found to have broken ribs, and who need admission to a hospital ward.
Participants will be allocated to one of two treatment groups through a process called randomisation (i.e. they will have an equal chance of receiving either treatment); half of the participants will be in one group and half in the other. In one group, patients will have pain killers (like paracetamol and/or morphine) prescribed in the usual way and their usual treatment will not change.
In the other group, patients will have pain killers (like paracetamol and/or morphine) prescribed in the usual way. In addition, they will have a patch containing numbing medication placed over their broken ribs. This treatment will start in the Emergency Department and last for 3-days, or until they are discharged from hospital, whichever is sooner.
Project Details
Principal Investigator: Dr Ed Carlton
Planned End Date: 31/03/2023
Local Ref: 4284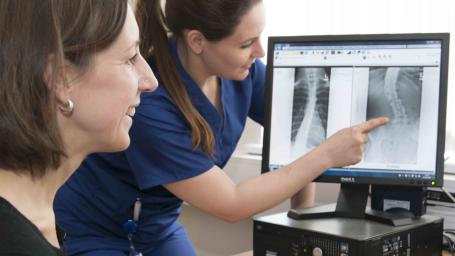 Become one of the thousands of people taking part in research every day within the NHS.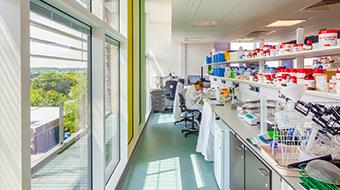 Find out more about our research and how we're working to improve patient care.
Contact Research & Innovation
Research & Innovation
North Bristol NHS Trust
Floor 3, Learning & Research Centre
Southmead Hospital
Westbury-on-Trym
Bristol, BS10 5NB

Telephone: 0117 4149330
Email: research@nbt.nhs.uk