What to have your say? Listening to you, helps us too
Taking part in research doesn't necessarily mean being treated as part of a study. At NBT we have a variety of Public Involvement Groups who help us to review and  improve the care we give to our patients.
Your involvement helps to ensure that our focus remains on what is most important – the people we look after. We believe that people with personal experience of healthcare are best placed to comment on what research is needed and how research should be done.
You don't need any research experience to join, just fresh perspectives that can guide our researchers, helping to make our research more relevant and acceptable to the people who use our services.
By joining a Public Involvement Group, you will be able to:
Comment on researcher's treatment ideas.

Discuss how the treatment will be carried out.

Read and give feedback on patient information sheets, letters to patients and patient questionnaires.

Keep updated on how the research study is progressing.
You can be involved as much or as little as you wish, depending on your personal circumstances. Each group is different, with some meeting for approximately 2 hours every 8 weeks, and others meeting just once or twice in total.
Current Opportunities:
Women & Children's Public Involvement
Support our mission to improve patient care by donating to Research today.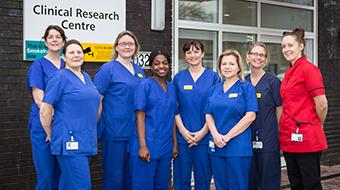 Want to find out more about our research? Simply get in touch with a member of our team here.
Contact Research
Research & Development
North Bristol NHS Trust
Level 3, Learning & Research building
Southmead Hospital
Westbury-on-Trym
Bristol, BS10 5NB

Telephone: 0117 4149330
Email: research@nbt.nhs.uk