Your generous support has a significant impact on our ability to maintain North Bristol NHS Trust's status as pioneering centre for healthcare research.
Twice a year, we open our Research Fund up to our passionate team of researchers, awarding the most cutting-edge research projects with the necessary funds to continue operating.
The Research Fund Awards are a true representation of your contributions at work. They have previously supported areas of study including women's health, orthopaedics, obstetrics & gynaecology and, most recently, COVID-19 research.
Find out more about how your donations have helped to facilitate our research:
2021 Research Fund Awards
Respiratory
Dr. James Dodd
Award: £19,914 – Remote teaching of home spirometry in patients with respiratory symptoms
Spirometry is a breathing test performed by blowing at maximum force into a tube. This is deemed to be high risk for COVID-19 transmission. Safety measures have led to the number of patients having spirometry tests halving and a long waiting list.
Spirometry can be performed at home, and the results can be sent via email to hospital staff using an app. However, we do not know how patients can be effectively taught how to perform spirometry.
This study is to determine the most effective way of performing spirometry in patients own homes.
James and his team will find out how accurate the home spirometry is by comparing the results to spirometry performed in the hospital.
If this study shows that patients can be effectively taught to perform spirometry at home remotely, this will reduce the number of hospital visits patients have to make in a place where respiratory patients are vulnerable and at risk of contracting COVID-19, decrease the hospital waiting list and reduce the costs associated with face-to-face visits.
Mental Health
Jo Daniels
Award: £19,757 – COVID-19 clinicians cohort (CoCCo) study: trauma needs and preferences
Many frontline doctors are experiencing mental health problems due to the impact of coronavirus, particularly traumatic stress.
Doctors who struggle with their mental health are known to take time off sick, perform poorly at work and experience high levels of psychological distress. This can then have a knock-on effect in terms of their patient care.
Studies completed during COVID-19 have outlined how important it is to hear from doctors from their own individual point of view, so services are shaped around what these doctors want and need. 
Jo's study aims to explore the key issues faced by doctors to understand the experience of working in a pandemic. Jo wants to know what treatment doctors want and how doctors want it.
The team will interview around 40 doctors from three groups (those working in emergency medicine, intensive care, anaesthetics). They will identify common themes from the interviews and note any differences between them.
The team will use their knowledge to develop treatment recommendations to professional groups, so that care for doctors is improved.
Renal and Urogenital
Nikki Cotterill
Award: £18,574 – Lower urinary tract dysfunction with SARS-CoV-2 infection
Nikki is interested if symptoms associated with bladder disorders start or worsen with the development of COVID-19 symptoms. There are very few studies that have addressed this question, and the preliminary results from these studies demonstrate a link between COVID-19 infection and bladder problems.
Nikki's study aims to follow two groups of volunteers: those who have been infected with SARS-CoV-2 and display COVID-19 symptoms, and a comparable group who haven't had COVID. Participants will be asked to fill out three questionnaires to document their symptoms to answer these questions:
Has COVID-19 contributed to the development of these symptoms?

Does COVID-19 infection alter the severity of existing symptoms?

Do symptoms change over time: do they rise and fall with time; do they get progressively worse; do they lessen with time?
Whether COVID-19 increases the prevalence of these bladder symptoms in the population, especially in the older group, is yet unknown but could have an impact on everyday life, need for services, and how nursing homes might respond.
Early detection and any proactive easing of symptoms can have an impact. If we know that bladder symptoms are associated with COVID-19 infection we can inform healthcare staff so that they can manage these symptoms more effectively.
2020 Research Fund Awards
Respiratory
Dr Anna Bibby
Award: £19,979 – Can we diagnose cancer of the lung lining (mesothelioma) by testing cancerous fluid for a gene called BAP1?
Mesothelioma is an incurable cancer that affects the outside lining of the lung. In the UK, 2500 people die from mesothelioma every year, which is equivalent to one person dying every four hours.
Anna will use her funding to establish whether it is possible to diagnose mesothelioma on the fluid when it is first removed. This could allow us to make the diagnosis within two weeks of the patient's first appointment. This would shorten the anxious, uncertain time and potentially mean patients didn't need to have additional tests. 
Anna will test a gene called BAP1, which is part of the DNA building blocks found in every cell in our bodies that make up who we are and how our bodies behave. In normal cells, the role of BAP1 is to stop tumours appearing and, if they do appear, prevent them growing. However, when mesothelioma tumours take over normal cells, the BAP1 gene disappears, which is why mesothelioma tumours can grow inside the body. 
We can currently test biopsy samples for BAP1. If it has disappeared, then the diagnosis is definitely mesothelioma. We want to find out whether we can test BAP1 in fluid as well as biopsies and whether this will be a reliable test for mesothelioma. 
Respiratory
David Arnold
Award: £5000 – Rapid Diagnostics in Pleural Infection
Pleural infection is the collection of infected fluid around the lung. It affects around 15,000 adults in the UK every year. The usual length of hospital admission for this condition is over 2 weeks. Part of the need for such extended hospital stays is due to difficulty for doctors in working out which patients might get better with antibiotics alone, who will need the infected fluid draining and who will require surgery.
David is testing to see whether testing levels of a protein called suPAR in pleural fluid can help us to predict which patients will require hospital admission, a chest drain or surgery,
If this marker could show that some patients could be managed less invasively then this has the potential to reduce the need for procedures and hospital admissions which would be beneficial to patients and the health service.
Intensive Care Medicine
Matt Thomas
Award: £19,688 – Early beta-blockade in severe traumatic brain injury: a pre-randomised controlled trial qualitative study
Damage to the brain following an accident has two forms. Primary injury happens at the moment of impact and cannot be altered. Secondary injury happens in the minutes, hours and days after the event and can be improved by medical treatment. Less secondary injury means patients are more likely to survive, and to survive with less disability.
One cause of secondary injury is adrenaline, a natural hormone released at times of stress. Too much adrenaline can make blood vessels leaky. This causes brain swelling which leads to secondary brain damage.
For this funded research, Matt will be investigating the challenges that researchers face when carrying out this type of research in intensive care to ensure that future trials into beta blockers and traumatic brain injury are successful.
Vascular
Shona McIntosh
Award: £19,986 – Is prognosis discussed with adult patients who have peripheral arterial disease?
Peripheral arterial disease (PAD) is a disease of the circulatory system affecting both sexes and increases in occurrence with age. It happens when arteries narrowed by calcium, cholesterol and fat deposits prevent adequate blood flow to the legs. Patients with inadequate blood supply to limbs are also likely to have narrowed arteries in other areas of their body putting them at increased risk of stroke, heart disease and kidney disease.
Patients with PAD who are facing amputation are likely to have a reduced life expectancy: four in ten patients undergoing amputation die within a year after surgery, and approximately seven out of ten will die within five years. This is a poorer life expectancy than for many people with cancer. Physical and psychological needs may be overlooked in patients with PAD in the last 6-12 months of life by clinicians looking after them because their declining health is difficult to predict.
The aim of Shona's research is to understand the factors affecting discussions about life expectancy for patients who have PAD, and whether the barriers to having these conversations lie with the patient, the clinician or both.
Psychology
Dr Jo Daniels
Award: £13,805 – A study establishing need and experience of high impact users in A&E with abdominal pain
People who attend the Emergency Department (ED) between 5-10 per year classed as high impact users and over 31,000 people attend ED over 10 times a year. The third most common reason for visiting the Emergency Department is abdominal pain which can be difficult to accurately diagnose or treat. Additionally, there is often no medical cause for the pain.
This is problematic for ED doctors, because although they do not want to overlook a serious medical emergency, they also want to avoid prioritising and spending excess time on patients who could be treated by GPs or self-manage at home There is no clear plan of action yet developed for doctors to treat abdominal patients effectively; there are no treatments that work and very little in terms of guidelines. This is surprising given how distressed these patients are and how much they cost the NHS.
Patients often find it difficult to hear that there is nothing medically wrong when they are in so much pain and distress. This can make them more worried (thinking perhaps something has been missed) which can cause symptoms to worsen by focussing on them, which then for some gives panicky symptoms such as feeling hot and palpitations which may be taken as evidence that something is really wrong
Jo aims to understand the needs and experiences of these patients attending A&E. She plans to use this information to help develop treatments in the future, improve quality of life for these patients and also benefit the NHS through expected cost savings.
Women's Health
Katharine Gale
Award: £19,992 – The Working Lives of Menopausal Women in the NHS
The overall aim of Katharine's research project is to investigate the working lives of women in the NHS, focusing on the menopause to discover what women describe as supportive management and explore how the organisation can improve support & guidance for their female staff within the organisation.
The menopause is the time in every woman's life when her periods stop and usually occurs between the ages of 45 and 55, with the UK median age of the menopause being 51. The average duration of moderate to severe hot flushes is 10 years but symptoms include night sweats, poor concentration, tiredness, poor memory and lowered confidence, with 25% of women experiencing symptoms they describe as severe. There are over 3,000 female employees in NBT aged between 41 and 60 years and therefore either likely to be affected by the menopause or have a lived experience of dealing with the impact at work.
The aims of Katharine's research project are:
To identify the unique health needs of menopausal women

To explore the experiences of these working women during the menopause

To identify any barriers to accessing health care, support and advice

To make recommendations on how women's working lives could be improved in our organisation

Our Research Fund is maintained by public donations and could not support the Research Fund Awards from 2017 – 19. Your valuable contributions make our research possible.

On behalf of the entire Research & Innovation Team, thank you for supporting research at North Bristol NHS Trust.
2016 Research Fund Awards
Women & Children's Health
Dr Katie Cornthwaite
Award: £19,631 – Development of simulation training for difficult delivery of an impacted fetal head at caesarean section 
Over one quarter of women in the UK undergo a Caesarean birth. This sometimes occurs when women are fully (10cm) dilated, also known as the second stage of labour. These technically difficult births are associated with significant risks to mother and baby. There is no established consensus regarding which method is safest and most effective in these situations. Lack of knowledge and training can lead to delays in the birth and increased risk of complications.
This project aims to develop a training program, where maternity staff can learn in simulation and apply these skills in clinical practice leading to greater confidence in maternity staff and improvements in outcomes for mothers and babies.
Women & Children's Health
Danya Bakhbakhi
Award: £7,582 – Exploring parental involvement in deciding which core outcomes matter to parents in stillbirth studies
Care for parents following a stillbirth is not always as good as it should be. Until recently, research on how to improve care for bereaved parents had been neglected.
Currently studies evaluating potential care and pathways after a stillbirth measure many different outcomes. Therefore, when the studies have finished, their results cannot be directly compared or combined.  We intend to develop a Core Outcome Set (COS) for care and treatments following a stillbirth to address this issue.  This will help patients, clinicians, and guideline developers make the best use of available research in the future, making research and the use of research funding more efficient.  But also ensures rapid progress in the field of stillbirth research
Renal & Transplant
Dr Phillippa Bailey
Award: £4,160 – Socioeconomic position and organ donation after death in England
There is a clear shortfall between the number of individuals requiring a transplant and the number of deceased-donor organs available for transplantation. Some people who die in hospital are suitable for possible organ donation, described as 'potential organ donors'. Of these people who are suitable for organ donation, only some will actually donate their organs to become 'actual organ donors'.
The proposed study will aim to address the question 'Is socioeconomic position associated with the likelihood of organ donation after death?' To address this question, we will analyse two national datasets of routinely collected hospital data from 2008 to 2012 inclusive. We will aim to understand whether certain socioeconomic groups are more or less likely to donate their organs after their death.
Rheumatology
Dr Paul Creamer
Award: £13,650 – Understanding patient perceptions of dose reduction for biologic therapy in inflammatory arthritis: a qualitative study
About 12 years ago a new class of drugs was introduced for the treatment of some forms of arthritis including rheumatoid arthritis and ankylosing spondylitis. These drugs, sometimes called "biologic therapies" are quite different as they are "designer drugs" specifically developed to block certain parts of the immune system. They have been extremely helpful, especially for patients who have tried and failed other traditional therapies.  Unfortunately, as with all drugs, these new drugs have potential side effects including local reactions, infections and possibly a small rise in the long-term risk of cancer.  We currently have very good advice on when and how to start these drugs but much less is known on when we should stop them.
The aim of this study is to undertake detailed interviews with a selection of patient's attending the Rheumatology Department at NBT and UHB.  By doing this we will understand more about patient's perceptions and concerns about reducing the dose of drug.  We believe that involving patients and understanding the patient perspective is vital for our continued delivery of the best possible service and treatment options.
Neonatal
Dr David Odd
Award: £3193 – Educational Trajectories after Preterm Birth
Many studies have shown that babies born early can struggle at school, and this early delivery can have important impacts on their educational and social successes. Some of these problems may be due to brain damage that occurs around birth, or during the neonatal period, but often it is unclear why these children appear to perform less well than others. The Bristol based study (Avon Longitudinal Study of Parents and Children study (ALSPAC) /Children of the 90's) recruited over 14,000 children in the Avon region and allows us to look in detail to how these vulnerable infants grow and develop, and investigate if there are patterns to their educational needs which can help target support for them.
The aim of this work is to compare the early (e.g. Key Stage 1) educational outcome of babies born early and see if the way they perform at school, as they grow, can help us identify any specific educational needs and when the best point to provide special support may be.
2015 Research Fund Awards
Neonatal
Dr David Odd
Award: £4,134 – Incidence of perinatal pathology in post-term deliveries and long-term consequences
While there is a lot of work looking at the long-term outcomes of infants born too early, little has been done for those born after their due date, despite the obvious role for medical intervention. Some of this work suggests that babies born after their due date are more likely to suffer brain damage around birth but other work shows no effect and more data is badly needed. David will use his award to investigate the risk of being born in a poor condition at, or after term, and the possible reasons for this. He will then analyse whether infants born after term do worse on measures of cognition, education and social functioning in adulthood. This work will help identify if the adverse effects of post-term delivery are possible consequence of perinatal asphyxia, and therefore will help advise healthcare providers and pregnant women to help reduce significant morbidity on the infant, the family and the NHS.
Women and Children's Health
Dr Yealin Chung
Award: £19,872 – The ReProFiLe Study. Investigating the Endometrial Leukocyte Profile in women with Recurrent Reproductive Failure (Pilot & Feasibility Study)
Only 25% of IVF (In-Vitro Fertilisation) cycles result in live births. One of the major barriers to improving this success rate comes from our limited understanding of how the womb lining responds to a fertilised egg. Some women may have an immune system that responds abnormally and therefore impacts on their ability to conceive and/or carry a pregnancy.
On average, every cycle of IVF costs over £5,000. So, even 1% improvement in the success rate will lead to cost-savings of £3.1 million a year. Furthermore, we could help reduce the significant risk of chronic psychological problems such as anxiety and depression that are often seen in couples following unsuccessful IVF attempts.
Yealin's study aims to analyse whether immune cell levels and their activity in the womb lining can be used to identify women at risk of Recurrent Reproductive Failure (RRF). Early identification of women with RRF would allow targeted treatment to maximise the likelihood of a successful IVF cycle.
Orthopaedics
Professor Ashley Blom
Award: £16,991 – Teicoplanin-phosphonate-functionalised titanium; a dual-action biomaterial finish for orthopaedic applications  
The NHS performs over 170,000 joint replacements each year. With the prediction of an increasing elderly population it has been estimated that by 2030 the numbers of total joint replacements could rise by 170% for knees and 670% for hips.
At present approximately 10% of all total joint replacements will fail in the lifetime of the patient because of loosening. A further 1% will fail because of infection. In this project Professor Ashley Blom is aiming to develop "dual-action" prostheses (implants) that address both these complications. He plans to monitor the growth and maturation of bone forming cells upon the modified titanium and to examine how MRSA bacteria respond to the new material.
This research could help us to achieve superior joint replacements to be used throughout the NHS, resulting in huge savings of public money and much less potential for ongoing complications t for joint replacement patients.
Cancer
Mr Antonio Orlando
Award: £2,931 – Low cost Skin Analyser for recovery and analysis of 3D and 2D data from patient moles to check for signs of cancer
Skin cancer is unfortunately an increasingly common disease in the UK - from 1999 to 2008 UK melanoma diagnoses increased from 57,000 to 90,000 per year. Being able to accurately measure the size and shape of a mole over time is important for early detection of potentially cancerous skin growths.
This project addresses the need for improving the diagnostic process by developing a unique and accessible, camera-based device to assist GPs in measuring and analysing moles that patients are concerned about. The device, which is non-invasive and risk-free, will initially be used with patients in the NBT clinic of the Skin Cancer Lead Clinician, Mr Antonio Orlando, to assess how useful it is and to explore the acceptability of the technology to patients and healthcare providers.
Respiratory
Dr Anthony Edey
Award: £18,469 – Evaluation of MRI for differentiation of malignant mesothelioma from benign pleural disease
Mesothelioma is a non-curable aggressive cancer of the lining of the lung that develops as a result of previous asbestos exposure. Most people live less than a year after the diagnosis of the disease.
People who have been exposed to asbestos can also develop a benign (non-cancerous) form of thickening of the lung lining. At early stages both benign and malignant thickening can look very similar on CT scans. It is very difficult to tell the difference just on imaging, therefore, most people will go on to have invasive biopsies that might not bring conclusive results. However, Anthony will use his award to investigate if there is a way MRI (magnetic resonance imaging) scans could help us in telling the difference between benign and cancerous thickening of the lung lining, to help avoid the invasive tests.
Several small studies have shown that MRI may be suitable for diagnosing mesothelioma, but the results are not definitive, which is why Anthony's study is so important.
2014 Research Fund Awards
Respiratory
Dr Nick Maskell
Award: £19,821 – Is pleural infection associated with longer survival in patients with mesotheliona?
Nick will use his award to research whether a patient's own immune system can be used to fight their lung cancer. 
We have observed that patients with infection in the pleura seem to live longer than those without infection. Our theory is that the infection stimulates the body's immune system, allowing it to attack the mesothelioma as well as the infection itself. Normally mesothelioma hides from the immune system by reducing the number of immune cells in the pleura, but pleural infection causes the return of these immune cells, where they recognise the mesothelioma and act against it, preventing it from growing so fast.
Neuropathology
Dr Kathreena Kurian
Award: £4,975 – Pilot study to Detect Brain Tumour Cells in Blood from the BRASH Brain Tumour Bank Southwest
Kathreena's aim is to revolutionise the methods of detection of brain tumours by simply sampling blood.
Approximately seven thousand patients in the UK develop brain tumours every year. Kathreena is investigating whether brain cancers can be detected with a blood test since she expects them to shed cells into the bloodstream (already seen in breast, bowel and prostate cancers).
This study is aiming to use a CellSearch® system to isolate and measure these tumour cells mixed-in within circulating blood.  This is a pioneering study which could potentially reduce, if not eliminate, the need for tissue biopsies or less accurate head scanning during follow-up.
Neonatal
Dr David Odd
Award: £4939 – An analysis aiming to improve the educational issues for babies born early
Babies born early can struggle at school, and have impacts their educational and social successes, but often it is unclear why these children appear to perform less well than others. 
The aim of this work is to compare the educational outcome of babies born early and see if the way they perform at school, as they grow, can help us identify any specific educational needs and when the best point to provide special support may be.
In particular we will also look at if the effect of going to school younger than other children has a persistent effect on your education. One important analysis will be looking to see if the population effects are bigger if you are born very early, or just slightly, as there are far more babies born a few weeks early and so any effect may be very important. 
Obstetrics
Professor Tim Draycott
Award: £6039 – Monitoring rare events. A comparison of four statistical process control methods
This study aims to compare four different ways to monitor rare adverse events in maternity care, such as stillbirths or babies born in poor condition, to determine which method:
Provides the earliest warning of possible care quality issues

Is easy to interpret for doctors, midwives, managers and maternity service users
We will compare the different methods to see which gives the earliest warning of potential care quality issues. This study forms part of the NBT maternity research group's programme of quality and safety studies; it builds on our previous dashboard study and will inform further research into the most effective ways to measure and monitor care quality.
Renal
Dr Helen Van der Nelson
Award: £19,880 – Intramuscular oxytocics: A multi-centre randomised comparison study of intramuscular Carbetocin, Syntocinon and Syntometrine for the third stage of labour following vaginal birth
Helen will use her award to compare the treatments given for post-partum haemorrhage. Around a quarter of all global pregnancy and child-birth related deaths are due to excessive bleeding after childbirth, or "post-partum haemorrhage" (PPH).
In the UK, PPH affects approximately 10% of new mothers. PPH can be extremely frightening for women and can prolong their hospital stay, causing them to need extra treatments including blood transfusion, and sometimes requires removal of the womb.  
This study will be the first to directly compare three medicines and the overall cost associated with their use, to establish whether using a the different drug after vaginal birth is an effective and affordable alternative, and whether women who receive it are less likely to experience nausea, vomiting and high blood pressure in the immediate post-natal hours. 
Obstetrics & Gynaecology
Sonia Barnfield
Award: £16,285 – Feasibility and acceptability of the use of 'Statstrip lactate' for assessment of fetal compromise in labour
Sonia and her team will use her award to look at improving the test of whether a baby is receiving enough oxygen during labour.  During labour a baby can be deprived of oxygen, this can lead to lifelong health problems such as cerebral palsy.  In labour a baby's heart rate is monitored using a cardiotocograph (CTG). When the CTG is normal we can reliably say the baby is well. If the CTG is abnormal, about half of babies are well (normoxic), and half may be unwell and deprived of oxygen (hypoxic). 
This project will investigate the use of lactate meters to test fetal blood samples, by checking the reliability of a handheld machine to detect unwell babies. Recording the times taken to obtain the blood sample and process the two different blood tests (pH and lactate).  This study will help the research team to design a large study in which the two methods of the fetal blood sample can be compared. 
With your help, we can fund ground-breaking medical research for generations to come.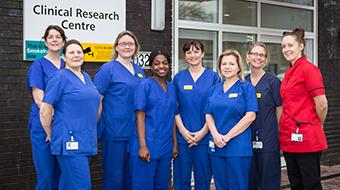 Want to find out more about our research? Simply get in touch with a member of our team here.
Contact Research
Research & Development
North Bristol NHS Trust
Level 3, Learning & Research building
Southmead Hospital
Westbury-on-Trym
Bristol, BS10 5NB

Telephone: 0117 4149330
Email: research@nbt.nhs.uk