While some types of clinical research are based on examining and observing people with specific health conditions, certain others require broader comparisons.
In some cases, such as with the recent vaccine trials for COVID-19 or our ongoing maternity research, an open call will be shared with the public to try and recruit large numbers of participants. These are often for UK-wide studies, aiming to find out what treatments are likely to be helpful for the largest amount of people.
Why take part?
Clinical research is essential for developing better treatments and improving healthcare. Many patients take part in clinical research to help us to find the best ways to:
Provide the best advice and treatments for people.

Share knowledge and learning.

Improve patient care.
Even though you may be interested in taking part, we have to be sure that you fit the narrow criteria for that study and are eligible. This might take into account your current health status, history, age, gender, etc. Eligibility is often quite specific to ensure that the people who take part are not exposed to avoidable risks.
Should you be interested in getting involved in our research in the absence of an open call, you may find yourself well suited to one of our Public Involvement Groups. These are an opportunity to share your experiences, regardless of your health status, to help further the research we conduct at NBT.
You can also sign-up to be contacted about Covid-19 Research through the NIHR's national research register:  bepartofresearch.nihr.ac.uk/
To see the full range of research that is currently taking place across the hospital, please visit Our Research pages.
Support our mission to improve patient care by donating to Research today.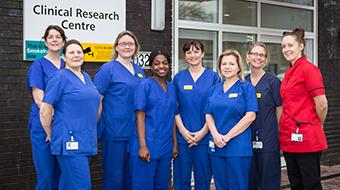 Want to find out more about our research? Simply get in touch with a member of our team here.
Contact Research
Research & Development
North Bristol NHS Trust
Level 3, Learning & Research building
Southmead Hospital
Westbury-on-Trym
Bristol, BS10 5NB

Telephone: 0117 4149330
Email: research@nbt.nhs.uk