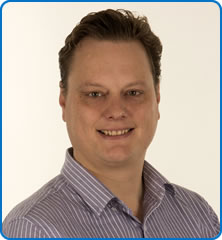 GMC Number: 6025704
Year of first qualification: 2001, Bristol
Specialty: Respiratory Medicine
Clinical interest: Severe Asthma and Emphysema. Unexplained breathlessness. Pulmonary Rehabilitation & Integrated care. 
Respiratory research interests: Cognitive function and brain pathology in COPD. Digital technologies in the assessment of lung function and interdisciplinary assessment of breathlessness.
Southmead Hospital Secretary: Tracey Ayshford 
Telephone: 0117 414 2012
Fax: 0117 4149496
Cossham Hospital Secretary: Alison Spear
Telephone: 0117 340 8511
Fax: 0117 3408505
Dr Dodd is clinical lead for complex airways disease at the North Bristol Lung Centre. He trained throughout the south west region, before completing a PhD at St George's University of London. He returned to the south west in 2013 as NIHR clinical lecturer at the University of Bristol. He was appointed consultant & honorary senior lecturer in Respiratory Medicine North Bristol Trust in 2015.
He is a member of the British Thoracic Society and advisor to the British Lung Foundation. He is on the evidence review group of the BTS/SIGN Asthma guideline and is a member of the South Gloucestershire CCG community Respiratory Group.
Dr Dodd has been awarded research grants from the British Lung Foundation and Wellcome Trust and is principal investigator on a number of clinical trials for patients with COPD & Asthma.