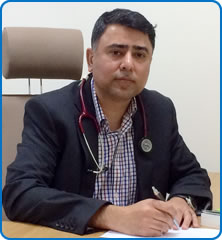 GMC Number:  4129976
Year of first qualification: 1994, University of Leeds Medical School
Specialty: Cardiology
Clinical interest: Management of acute heart attacks and angina
Secretary: Georgina Lea
Telephone: 0117 414 6365
Dr Shahid Aziz is a Consultant Cardiologist here at North Bristol NHS Trust and at the Bristol Heart Institute.
He is a general cardiologist looking after patients with all types of heart conditions including hypertension, ischaemic heart disease and heart failure.
His particular interest is the treatment of coronary artery disease with coronary angioplasty and stents.
Dr Shahid Aziz research interests include optimisation of angioplasty results and he has published several papers in the field of interventional and general cardiology. 
Recently he wrote a book "Understanding High Blood Pressure" (publication date April 2015).
He has a leading role in medical teaching through Bristol University and also works for the General Medical Council as a member of the review panel for cardiology specialist registration.
His is a member of the British Cardiac Society, British Cardiovascular Intervention Society and European Society of Cardiology.