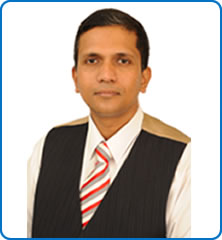 GMC Number: 4773650
Year of First Qualification: 1997, University of Calicut, Kerala, India
Department: Urology
Clinical Interest: Kidney stones, Ureter and Kidney Cancer
Secretary: Charlie Quick
Telephone: 0117 4145007
Mr Joe Philip has been a Consultant Urological Surgeon at Southmead Hospital Bristol since 2011.
He did his Urology Specialist training in Merseyside and completed an Endourology and Laparoscopy fellowship from Queen Elizabeth Hospital, Birmingham.
He was awarded MD by the University of Liverpool.
He sub-specialises in urinary stone disease including shock wave lithotripsy, ureteroscopy; percutaneous nephrolithotomy. He also undertakes laparoscopic surgery for ureteric and kidney cancers.
His research interests include the management, prevention and study of socio-geographic and economic factors in stone disease and the science of ureter and kidney cancer.