GMC Number: 4497020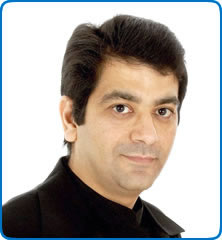 Year of first qualification: 1990, University of Delhi
Specialty: Radiology and Clinical Imaging
Clinical interest: Gastroenterology, Haematology and Cancer imaging. Teaching and training of doctors, nurses and radiographers.
Telephone: 0117 414 9012
Professor Sanjay Gandhi is a senior consultant radiologist at North Bristol NHS Trust. He has 30 years of clinical experience and received several national and international academic excellence awards.
He is NBT Lead Clinician for Radiation Protection and Lead Radiologist for Haematology Cancer MDT. He has been involved with several Quality Improvement and Safeguarding projects.
Dr. Gandhi holds three Postgraduate Radiology degrees. He has been training specialist registrars, nurse practitioners, ultrasonographers. He has taught trainees at the University of Bristol and the University of West of England for nearly two decades. As Visiting Honorary Professor he also teaches at Commonwealth Universities.
Professor Gandhi has co-authored and edited 8 international medical textbooks, all of which have received excellent reviews. In 2003 he received prestigious British Medical Association (BMA) Highly Commended Author and Editor Award.
Professor Gandhi has been involved in numerous research projects and collaborative trials. He has regularly published articles and research papers in major journals such as the British Journal of Radiology (BJR), British Journal of Hospital Medicine (BJHM) and British Medical Journal (BMJ).
Professor Gandhi is an Editorial Board Member of four peer-reviewed medical Journals and written editorials on the use high-tech medicine and TeleHealth.
He has been a frequently invited speaker and moderator at high profile medical conferences. Professor Sanjay Gandhi has written many research papers and Editorials on the use of cutting edge technology to improve patient care.
In addition, he has organised several international conferences on Efficiency savings and Healthcare Innovations. Professor Gandhi is an internationally recognized leader in Healthcare-IT and self-assessment tools and smart teaching Apps.