Dr Nicola Minaur
Dr Nicola Minaur - Rheumatology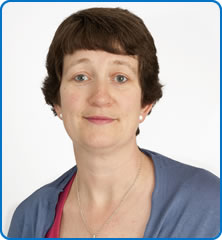 GMC Number: 3335228
Year of first qualification: 1989, University of Edinburgh
Specialty: Rheumatology
Clinical interest: Inflammatory arthritis, transition clinic, ultrasound
Secretary: Liz Emery
Telephone: 0117 4142850
Dr Nicola Minaur is the North Bristol unit co-ordinator for rheumatology undergraduate teaching for third year medical students at Bristol University. She is the lead for the Rheumatology Ultrasound Service and the Young Adult Rheumatology clinic at NBT.
She also has interests in:
Encouraging patients to self-manage
Adolescent rheumatology and transition
Rheumatology service redesign
She is a member of the British Society of Rheumatology and a Fellow of the Royal College of Physicians (London).