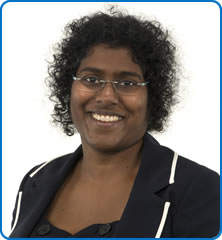 GMC Number: 4505499
Year of first qualification: 1998, University of Bristol
Specialty: Surgery
Clinical interests: Kidney transplantation, endocrine and general surgery
Secretary: Julie Clash
Telephone: 0117 414 0825
Miss Anusha Edwards is a kidney transplant surgeon. She performs operations on patients with kidney failure including kidney transplantation and surgery to allow both haemodialysis and peritoneal dialysis. In addition, she performs keyhole (laparoscopic) surgery to remove kidneys for living donation.
In her role as an endocrine and general surgeon Miss Edwards looks after and operates on patients with parathyroid disorders and common surgical diseases such as hernias and gallbladder problems
She has a keen interest in the education of medical staff, patients and the local community, especially in the field of renal transplantation.
Miss Anusha Edwards is the Specialty Lead for General Surgery and a Fellow of The Royal College of Surgeons of England, and a member of the British Transplant Society and British Association of Endocrine and Thyroid Surgeons.
If you would like to view independent feedback visit www.iwantgreatcare.org/doctors/miss-anusha-edwards If you would like to leave your own feedback visit http://iwgc.net/esfl